As the Christmas season fast approaches, we thought we'd divert your mind away from the potatoes, brussel sprouts and turkey with some of our favourite Asian culinary treats. That's why we decided to share some festive recipes with an Asian twist.
Hoppers are crispy and warming egg-filled pancakes eaten for any meal in Sri Lanka. It's healthy, wholesome and incredibly comforting. This recipe is not complicated and a fantastic introduction into Sri Lankan cuisine.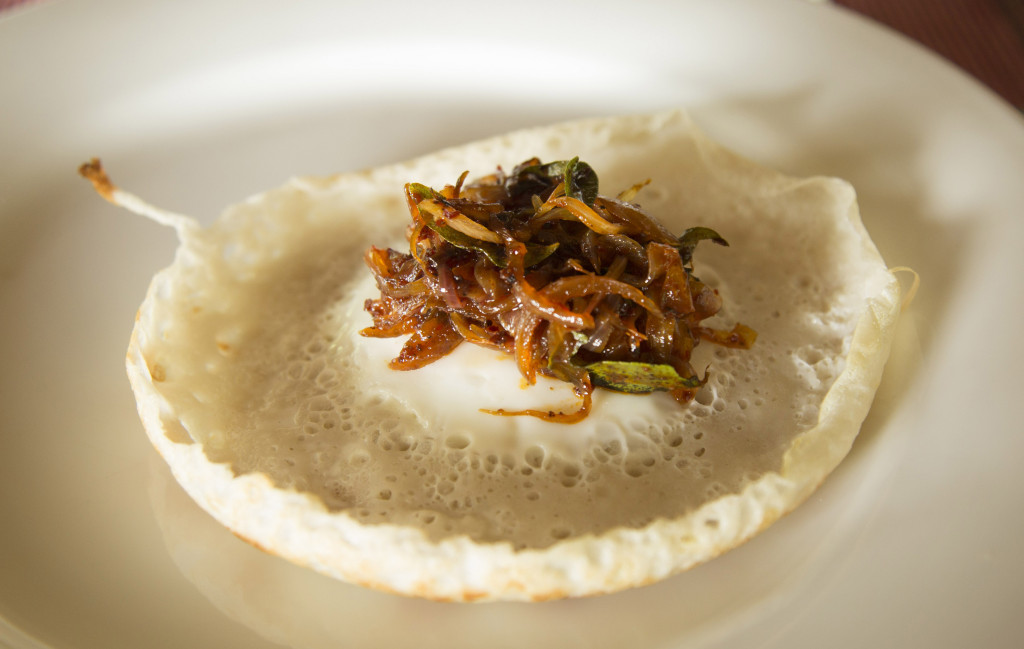 ---
We hope that you enjoy!
Preparation time: 15-20 minutes
Serves: 4 people
Ingredients:
375g rice flour
teaspoon full of yeast
3 tbps of sugar
salt
2 cans of coconut milk
Optional: onion or tomato chutney
Method:
1. Pour the rice flour into a bowl with a pinch of salt.
2. In a separate measuring jug, mix the yeast with sugar in 50ml of luke warm water. Leave for 5 to 10 minutes to cultivate and then add the yeast mixture into the bowl of flour, stirring until evenly spread throughout.
3. Add the first can of coconut milk and mix, then add a second can – only until you get a batter like consistency, (similar to if you were making pancakes.)
4. Pour one spoonful of the mixture on to a wok at a medium heat and spread around; use a little oil if you need to stop it from sticking but don't use too much. Add one egg into the middle of the hopper. Put on a lid and let it cook for about 2-3 minutes.
5. Serve on a plate and add optional chutneys. In Sri Lanka you would usually put Sambul on top but chutney is an easier alternative if you're based in the UK.
---
Whilst this recipe is a great introduction to Sri Lankan cuisine, you won't beat hoppers prepared by the locals. Have a look at our Sri Lanka holiday ideas for more inspiration.
All our holidays are tailor-made by our country experts, so if you wanted to get a personalised itinerary or just some more ideas, do call us on 020 3627 3081. Our specialists are very happy to help – no matter where you're at with your holiday planning. There are no obligations to book and you don't have to pay a penny until you are completely sure that you've found your perfect holiday.