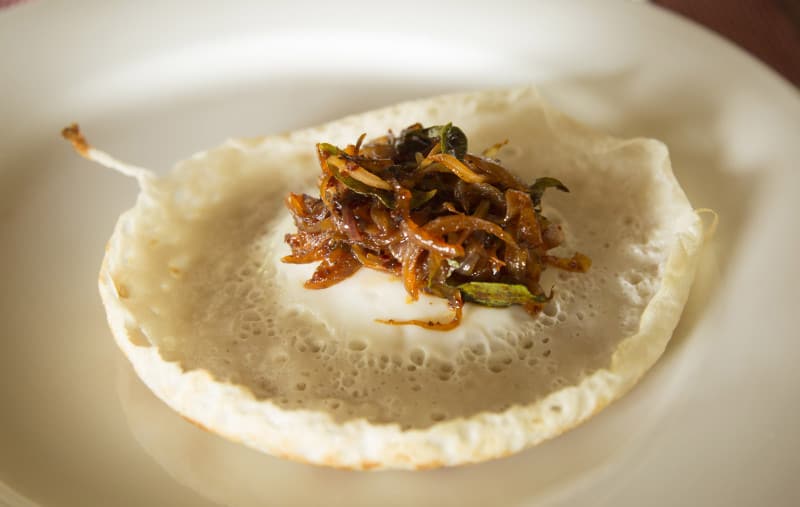 Sri Lankan cuisine is fresh, colourful and full of flavour, with a focus on creamy coconut and gently spiced cinnamon. Dishes are typically served with various wholesome starches that soak up the delicious sauce and juices of the meal. One particularly simple starch that's enjoyed by locals and visitors alike is the hopper. In this blog, we will show you how to make Sri Lankan hoppers.
What are Sri Lankan Hoppers?
There are two types of hoppers commonly served in Sri Lanka. Standard hoppers resemble thin, bowl-shaped crispy Asian pancakes containing either Sambul, a Sri Lankan coconut condiment, or often, a gently cooked egg. String hoppers are nests of noodle-like dough and are a Sri Lankan breakfast staple. Common accompaniments include curries, curd (fresh buffalo yoghurt), chutneys and palm syrup known as 'trickle'. They are healthy and comforting, and their versatility means they can be enjoyed with any meal or even as a snack.
---
How to Make Sri Lankan Hoppers
This simple recipe for pancake-style hoppers is a fantastic introduction to Sri Lankan cuisine and is certain to wow your friends and family.
Preparation time: 15-20 minutes
Serves: 4 people
Ingredients:
375g rice flour
teaspoon full of yeast
3 tbsp of sugar
salt
2 cans of coconut milk
Optional: onion or tomato chutney
Method:
1. Pour the rice flour into a bowl with a pinch of salt.
2. In a separate measuring jug, mix the yeast with sugar in 50ml of lukewarm water. Leave for 5 to 10 minutes to cultivate and then add the yeast mixture into the bowl of flour, stirring until evenly spread throughout.
3. Add the first can of coconut milk and mix, then add a second can – only until you get a batter-like consistency, (similar to if you were making pancakes.)
4. Pour one spoonful of the mixture onto a wok over a medium heat and spread around; use a little oil if you need to stop it from sticking but don't use too much. Add one egg into the middle of the hopper. Put on a lid and let it cook for about 2-3 minutes.
5. Serve on a plate and add optional chutneys. In Sri Lanka, you would usually put Sambul on top but chutney is an easier alternative if you're based in the UK.
---
How to Eat Sri Lankan Hoppers
In Sri Lankan culture it is common to eat with your hands, and we believe hoppers are best enjoyed in this traditional way. To eat string hoppers, you should take a small amount and mix it into the curry or Sambol before passing it to your mouth. Standard hoppers are much simpler to eat due to their convenient shape, which means they can be filled and rolled up before being eaten. It is important to remember that Sri Lankans use only their right hand for food, while the left hand is used for holding the plate and cleaning.
We hope that you enjoy!
---
Experience Sri Lanka
Whilst this recipe is a great introduction to Sri Lankan cuisine, it's simply impossible to beat hoppers prepared by the local vendors in the bustling streets of Ella. Have a look at our Sri Lanka holiday ideas for more inspiration.
All our holidays are tailor-made by our country experts, so if you wanted to get a personalised itinerary or just some more ideas, do call us on 020 7924 7133 . Our specialists are very happy to help – no matter where you're at with your holiday planning. There are no obligations to book and you don't have to pay a penny until you are completely sure that you've found your perfect holiday.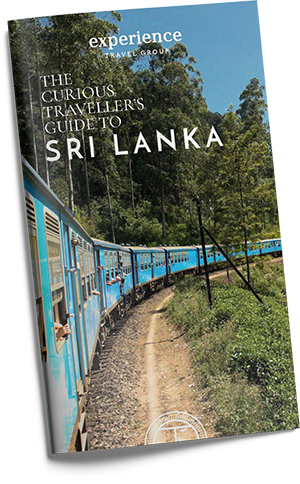 CURIOUS TRAVELLER'S GUIDE TO SRI LANKA
Wondering when to visit Sri Lanka? Our Curious Traveller's Guide to Sri Lanka will give you a more detailed breakdown of the best time of year to book a holiday, as well as tips on the best beaches, unmissable sites, and much more.
DOWNLOAD NOW