Spotting these incredible human-like animals is an incredibly popular experience for any traveller to Borneo. There are various ways in which you can see them; in the wild, captive or in a semi-wild environment and various places you can encounter them. Here we give you our answer to the question:  Where is the best place to see orangutans in Borneo? along with tips on how to spot these amazing creatures.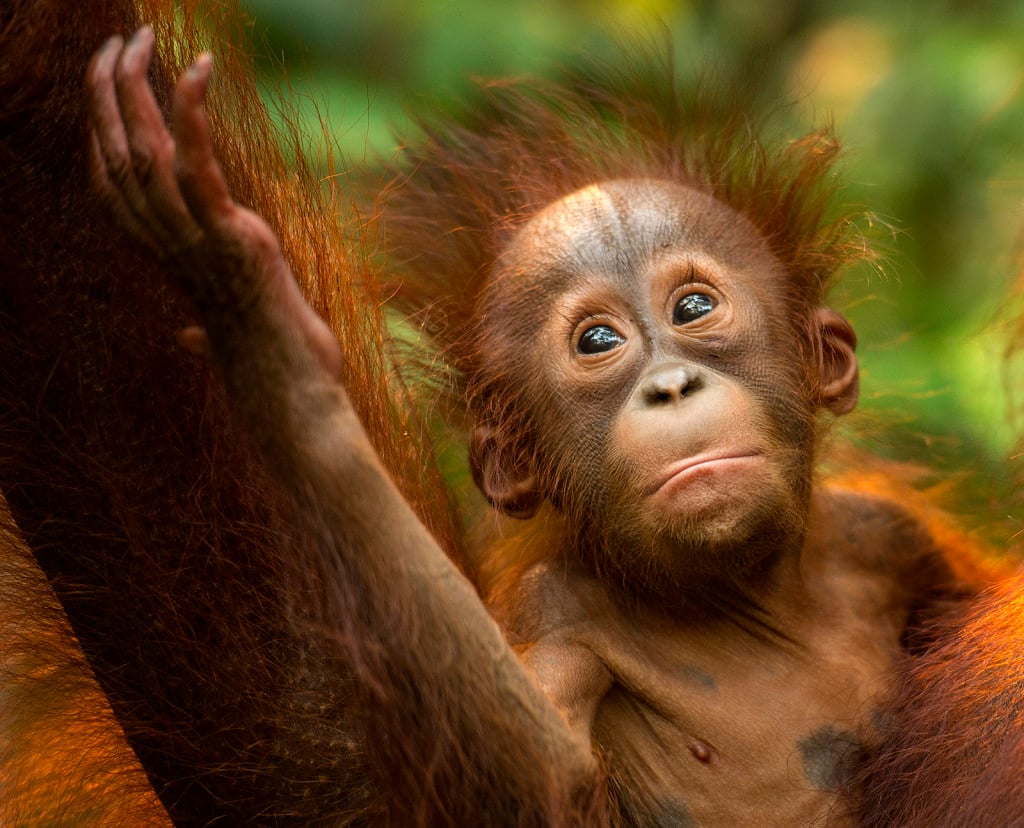 ---
Whilst in 2006 there was an estimated 66,000 orangutans in the world, now there's thought to be only 45,000  – an incredibly steep decline. The prospect of seeing such a unique and clever creature at risk of disappearing in the next few decades is a powerful draw.  So here's how to best see orangutans, locally known as the "people of the forest."
Is it best to see Orangutans in the wild or in a rehabilitation centre?
When choosing your orangutan experience, be prepared that each will have its pros and cons depending on whether you see them in the wild or in a semi-wild environment. You can read our guide to the best rainforests of Borneo for a guide on the different wild environments available to you in Borneo.  Combining both experiences gives you a fuller picture of the survival of this animal, but it really depends on how much of a focus orangutans are for your Borneo holiday.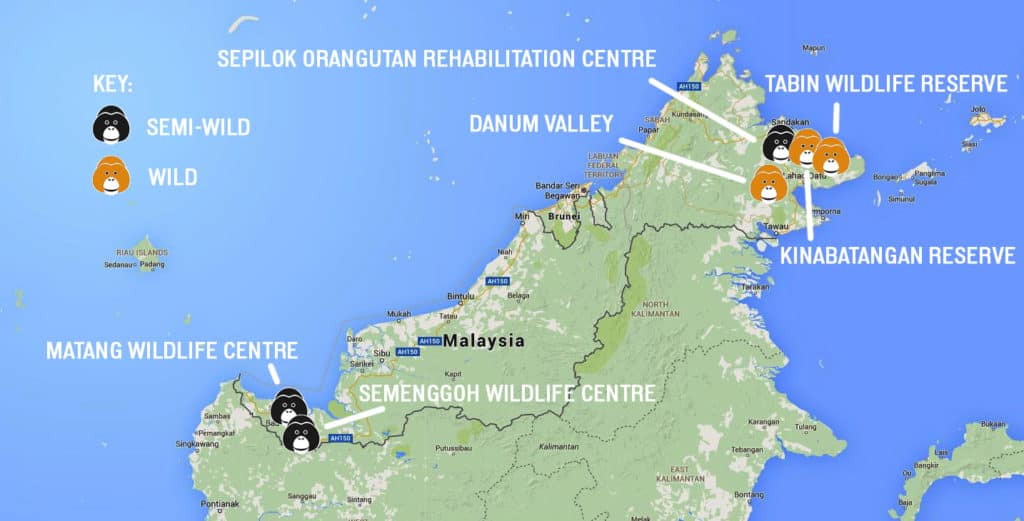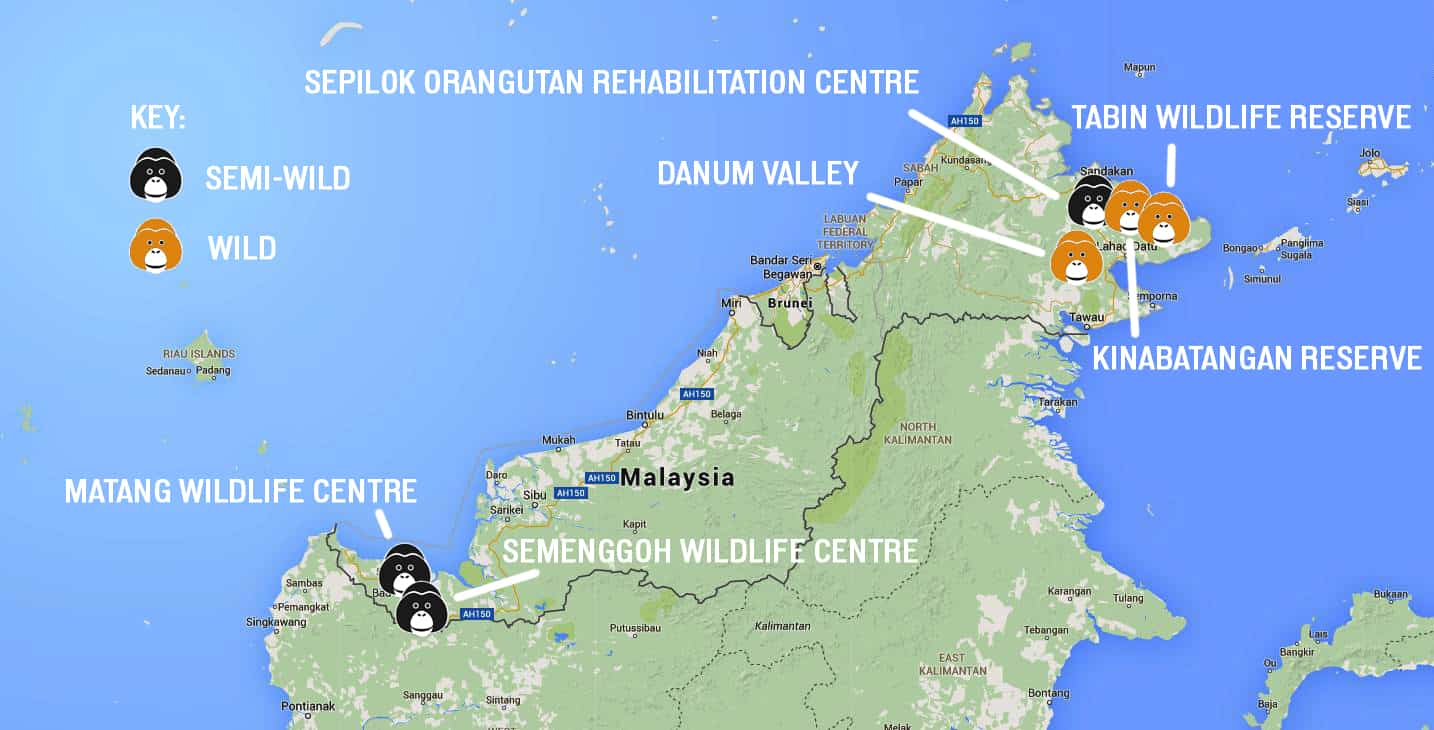 ---
---
At a Rehabilitation Centre
These are centres dedicated to rescuing orangutans from habitat loss, poaching and the illegal pet trade. They usually encompass a large area of land, providing orangutans with supplementary food for support before they can leave of their own accord through a rainforest corridor out to the wild. With regular feeding times, you are virtually guaranteed to see an orangutan during your visit.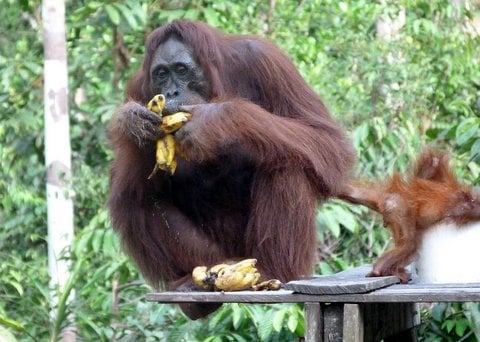 Pros:
Very high likelihood of sighting
Relatively close proximity to the orangutans – around 10 feet away
Good on-site information about the species and passionate naturalists to guide you round
Money goes towards conservation efforts and those who have the animals best interests at heart
Cons:
Group environment with other travellers – you don't know how others might act!
It is more staged and static, although seeing orangutans swing down from the canopy for feeding time is a sight to behold.
There are three popular centres you can visit:
 Sepilok Orangutan Rehabilitation Centre is a 40-minute drive from Sandakan, Sarawak. It is the largest rehabilitation centre in the world and has 43 km of protected rainforest for 60-80 orangutans to live in and hopefully leave once they're ready to fend for themselves in the world.
Semengoggoh Wildlife Centre is a 30-minute drive from Kuching and is the largest rehabilitation in the western state of Sarawak. It boasts 7 km of forest reserve for around 30 semi-wild orangutans to inhabit.
Matang Wildlife Centre is in the Kubah National park and is 40-minute drive from Kuching. It specialises in looking after orangutans with previous issues such as territorial and aggressive behaviours. The apes are kept in enclosures and large cages, and this is a less frequented centre as it provides quite specialist care. I mention it here for travellers particularly interested in the rehabilitation of difficult individuals.
Seeing Orangutans in the wild
Nothing quite beats a wild sighting of this majestic species in the treetops of Borneo's virgin rain forests. There's a magical quality to the spontaneity of the moment and whilst there isn't a guaranteed sighting if you do see an Orangutan it makes the experience all the more special.
Pros:
An intimate experience, away from other travellers
See other wildlife like Proboscis monkeys and birdlife
Natural habitat makes for an authentic experience
Cons:
You might not see orangutans
The apes are harder to spot in the canopy than in a rehabilitation centre
Orangutans can be metres up in the air, making it difficult for photographers or those wanting to get a little closer
Where is the best place to see Orangutans in Borneo, in the wild?
What are the best tips to help spot Orangutans in the wild?
Do:
Go prepared. Read up on orangutans before you go, or alternatively watch some documentaries. 'The ape who went to college' is about Chantek, the orangutan who learned sign language at an incredible rate but was later put into a research facility that ultimately led to his tragic isolation. It really questions the boundaries of what is human and what is animal behaviour.
Ask questions when visiting a rehabilitation centre, since you'll be surrounded by experts in the best position to answer.
Embrace getting off the beaten track. It will help you better appreciate the environment orangutans are adapted to live in.
Take a zoom lens for photography – anything over 100mm is ideal. This means you don't have to disturb the animal and you'll still get a really good close upshot.
Embark on your wild orangutan adventure with an open mind. There may be leeches, mosquitoes and you'll sweat a lot, but the pay-off of seeing these creatures in the wild is worth it.
Don't:
Expect to get very close to orangutans; we share 96% of their genes and can swap diseases easily. Even a mild cold might seriously harm them.
Expect to cuddle baby orangutans. Rehabilitation centres' main priority is to help build their strength so that, as adolescents, they can fend for themselves. This means they need to grow up in as wild an environment as possible.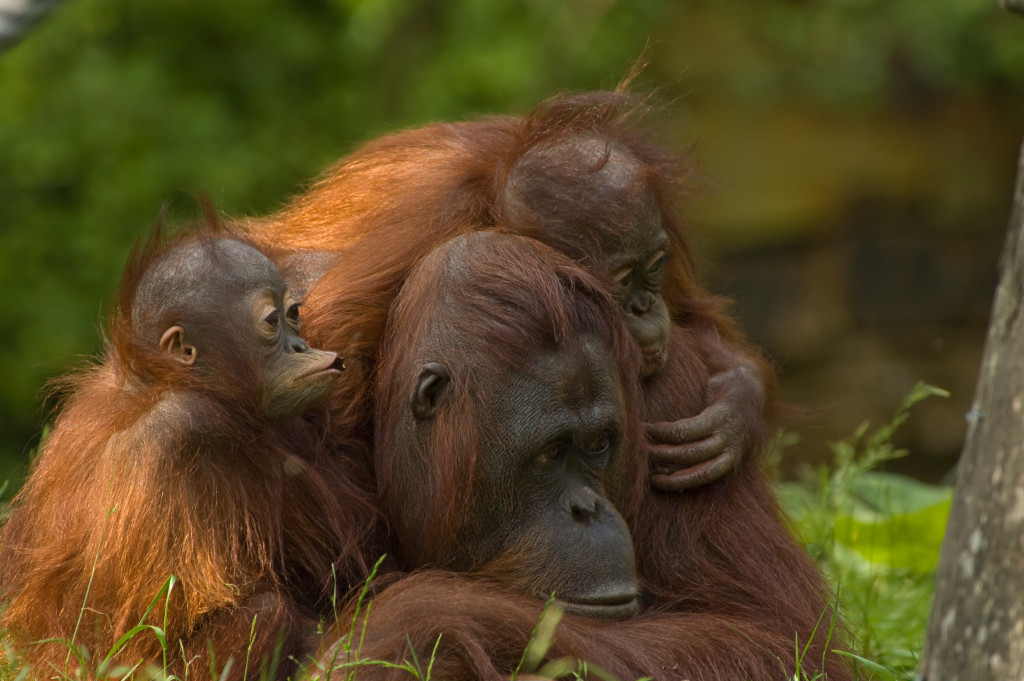 When is the best time of year to see Orangutans?
May through to the end of September is the best time of year to see Orangutans in Borneo, both the rehabilitation sanctuaries and in the world.  This coincides with the best time of year to visit Borneo too.   In the wetter part of the year from October through to mid-March, the rain makes the vegetation slightly thicker and naturally isn't quite as 'fun' when you're wet.  The humidity levels also increase too.  Having said this, the wetter time of year does mean fewer tourists and unlike nearby countries, you don't get fierce typhoons or constant monsoon rains.
---
All of our Borneo holidays are tailor-made so we can tweak activities and hotels wherever you'd like. If you'd like to talk to me about the best places to see orangutans in Borneo, you can always phone on 020 7924 7133 . There are absolutely no obligations and I'm here to offer advice for any stage of your holiday planning. 
This article was originally published in May 2016. Updated in March 2021.