MD & Founder, Sam Clark, provides his round-up of the most exciting new hotels in South and Southeast Asia. From luxury tented lodges in the wild, to exclusive island beach resorts – he passes on his top recommendations for places to stay on your next trip. 
---
Time for my yearly round-up of notable new hotel openings slated for the coming 12 months. We've also given our tea leaves a swirl (Sri Lankan Orange Pekoe, naturally) and had a look to see what travel themes might be emerging in 'our' corner of the world over the coming year.
This is by no means an exhaustive or comprehensive list. I'm focusing almost exclusively on high-end hotel openings: those glamorous or exciting enough to get some ETG attention. We have high standards and ration our pre-excitement – does the proposed new hotel fill a niche? Does it have pedigree behind it? Is it going to bring a new perspective on the location or country for our discerning travellers?
We'll start, as usual, in Sri Lanka, where recent years have seen a spate of new openings island wide. With Chena Huts, Tri and Fort Bazaar, the south of Sri Lanka saw several high-profile openings in 2016. We can expect more of the same in 2017. The hospitality arm of Dilmah team, Resplendent Ceylon, are opening Wild Coast Tented Lodge near Yala in late 2017, which should be very exciting. They are also opening Sigiriya Resort in 2018, while Red Rocks Beach Camp, on the white sands of Kuchalveli, a pristine beach 20-minutes' drive north of Trincomalee, will follow at some point too.
Both these hotels look exciting and we hope that Resplendent Ceylon can hit the high notes they reached with Tea Trails, Sri Lanka's first truly high-end hotel experience and still, in our experience, top of the tree. If they do it will open a whole new area for luxury tourism in Sri Lanka, a country where tourists have traditionally been concentrated in only a third of the country.  
Another region where supply has not kept up with demand is in the hills themselves. The aforementioned Tea Trails is very often fully booked and, in any case, right at the very top end of the budget range. Coming in to fill the void are three new tea plantation bungalows opening in late 2017: Goatfell, Pekoe House and Nine Skies, all from Teardrop Hotels (The Wallawe and The Fort Bazaar). After the success of Fort Bazaar this year, we expect great things of these intriguingly named small hotels.
Also worth mentioning is a brand new opening called Ahas Pokuna, which looks incredible. It's a real labour of love from Anuruddha Bandara, the founder of Eco Team, a high-end safari operator. He has converted part of his family's land into a private nature reserve and a super high-end safari-style lodge with the aim of bringing walking safaris to Sri Lanka. At ETG we're all in favour of a more natural, get out and explore approach to wildlife tourism – where necessary and when it doesn't interfere with the local wildlife. We think it brings a more nuanced understanding of the natural world and, just as importantly, can be much more fun. It's a new direction for Sri Lanka.
In The Maldives, we think it's all about taking a few days to explore one of the 'proper' islands, by which we mean those islands where people actually live and not those that can be easily reached from neighbouring resorts. Discerning travellers are loving the chance to stay in these utterly remote and other-worldly little places at one or other of the great little guesthouses and mini-hotels that have sprung up. There's nothing wrong with combining that with some Robinson Crusoe magic at one of the superstar resorts too and, as ever, The Maldives works brilliantly combined with neighbouring Sri Lanka: see our suggested holiday here; you'll experience The Maldives in a way that we can promise will be entirely different to almost all other visitors to this incredible country.
Moving down to Southeast Asia, one of the big openings is a new Six Senses in Cambodia – an upscale resort on tiny Krabey Island. It will be competition for Song Saa and it's an absolutely amazing location for a luxury hotel. I really hope they do it justice and are as committed to environmental sustainability as Song Saa have been.
There are whispers too of a super-high-end tented camp-type place opening in the countryside near Phnom Penh. It will add a very interesting new element to Cambodia holidays at the top end of the market. It comes from the Shinta Mani group (with the Bill Bensley-designed Shintamani hotel in Siem Reap), a progressive hotel group bringing a new level of expertise into Cambodia, and this has to be a positive thing. For more boutique hotels in Cambodia, have a look here.
Over in Thailand there are, as ever, plenty of new hotels and re-workings of older places. Among the new places definitely opening, Cape Kudu caught my eye. Koh Yao Noi is my personal favourite of the Thai islands, with just enough going on to give you options for popping out for a bite or a sunset beer, but much quieter and more peaceful than any of the other larger islands, especially in peak season. This new resort is part of the 'Cape Collection', most well-known of which is Cape Panwa on Phuket. Other than this, I'm struggling to see the value in many of the new hotels in Thailand.
There is also a decent amount of activity in Vietnam. With plenty of the country as yet totally undeveloped for tourism, there's so much scope for a well-planned expansion to their tourism offering. Unfortunately, most of the new hotel openings look fairly boring: new Sheratons and so on and so forth. Phou Quoc Island is being developed at a ferocious pace, though some of the hotels look promising: a JW Marriot, for example. I think, however, that the time to visit Phou Quoc is now: it is still a lovely island with fantastic low-key hotels. For how much longer though, I just don't know.
One place I am excited about in Vietnam, however, is the Lak Tented Camp. Vietnam is really lacking in terms of 'eco' style places – or at least places that are heavily inspired and influenced by their natural surroundings. It is also close to Saigon, which makes it easily accessible for most visitors.
Apparently, Four Seasons have also begun work on a new hotel in Hanoi, which should be interesting, especially after they took over management at the incomparable Nam Hai in 2016. No news yet though, on any likely opening date.
We are seeing a sharp upturn in demand for Indonesia beyond Java and Bali to some of the smaller (or at least less well known) outlying islands, and we expect to see this trend continue. There are some excellent new hotels opening on Lombok later this year too, such as the Legian Lombok, to add to Indonesia's extraordinary accomplishment in the field of boutique hotels.
Back west to India and we are quite excited about the east of India – Calcutta, Darjeeling and Sikkim – this year. Exploring the heart of Buddhism, post-colonial Calcutta and the wildlife in the Sundarbans,  is certainly high on my list for the coming year.
The owners of Glenburn Tea Estate (a really fabulous place in Darjeeling) are opening a hotel in Calcutta, overlooking the Victoria Memorial, called The Penthouse. With that kind of pedigree and location, I suspect that it is going to be spectacular and offer a whole new high-end element for the city that does not currently exist. Along with Glenburn up in Darjeeling, it will also dovetail well with the fabulous Rajbari Bawali, which opened only last year and is an hour's drive from Calcutta itself.
Along with some really fantastic walking tours and options for exploring the unique Bengali historical/cultural/culinary heritage, the east of India and Calcutta is coming of age, I think. It really opens up Calcutta and Darjeeling as a high-end combination option. We are developing a luxury tour to launch along these lines later this year: let us know if it's an interesting idea to you. As a side note, I've used the name Calcutta here, rather than the correct Kolkata: there is an excellent little blog on the subject here!
In general, across India, the trend towards converting forts into hotels (both luxury and otherwise) continues inexorably. India has an almost inexhaustible supply of mind-boggling forts and palaces and there are few better modern uses for them than as evocative and atmospheric hotels. Firm dates are hard to come by in India – we generally announce new hotels once they have opened and we've seen them – but watch this space.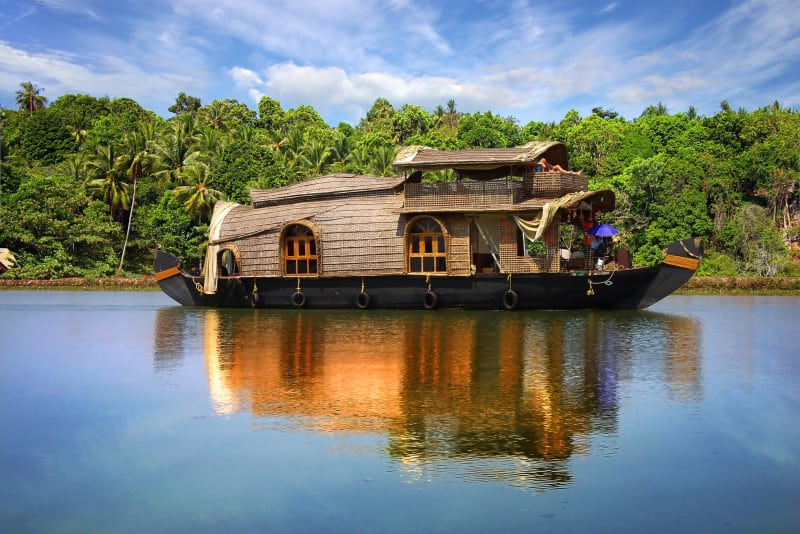 In the south, the excellent hotel group CGH Earth, are opening Wayanad Wild in the rainforest in the Wayanad region of northern Kerala. This is interesting as it opens up the north for an off-the-beaten-track but luxury holiday experience. The north of Kerala is really where it is at – culturally fascinating, remote, beautiful, wilder than the south and you still have the chance to see Cochin, the backwaters and beyond on route if you so wish.
We think South India will come back in a big way this year and we are predicting a trend towards visiting Tamil Nadu, Karnataka and other less well-known Indian states alongside Kerala, as well as more itineraries that include the less well-visited area of northern Kerala. We are promoting Tamil Nadu and beyond pretty heavily for 2017–18 as we think there is so much to see, and it is fantastic value, too.
---
If you would like to discuss any of the mentioned hotels with an expert, do get in touch on 020 3468 9584 or drop us an email here. We have various example itineraries for privately guided tailor-made trips that can provide you with holiday inspiration. 
---