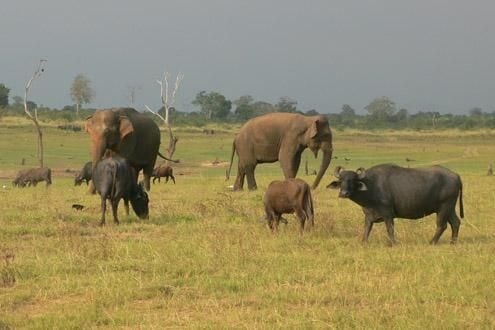 Created in 1972, this National Park was designed to protect the catchment area of the Uda Walawe reservoir and provide sanctuary to the animals displaced during the reservoirs construction. Lying on the boundary between Sri Lankas wet and dry zones, the area which was previously used for shifting cultivation is dominated by grassy plains. While not as wild or remote as parks such as Wilpattu or Yala, with the land only recently reverting back from cultivation, the park has some fascinating characteristics that make it well worth a visit.
The large elephant population is the main draw. With around 400-500 elephants residing in the park, Uda Walawe is the most reliable place to see elephants in their wild habitat and herds of up to 50 individuals are commonly seen.
In addition to the huge elephant population, you can also expect to see Water Buffalo, Wild Boar, Macaques, Langur monkeys and various deer species. If you are lucky, you will also spot the Sri Lankan Leopard as the population has increased in recent years. Of course birds can be seen in abundance and the open parkland of Uda Walawe is particularly rich in raptor species. These include species such as the White-bellied Sea Eagle, Crested Serpent-eagle and the Booted Eagle. The area surrounding the reservoir is a great place for any birdwatchers with a variety of water birds such as the Eurasian Spoonbill and Black-headed Ibis.
Keen bird-watchers and those wishing to see elephants in their natural habitats would do well to spend half a day exploring this park. Afternoon or morning 4WD safaris can be arranged, although the afternoon drive is particularly recommended, heading out as the heat of the afternoon sun starts to dissipate, returning back to your hotel just after sunset.
A safari in Uda Walawe National Park can also be tied in with a visit to the Uda Walawe Transit Home. Please see this experience for more information.
Map centered on Uda Walawe 1/2 Day Safari. Zoom out to view other hotels (H) and experiences (E) in the area.