Family Adventure Sri Lanka

Bespoke Holiday Itinerary / Experience Tour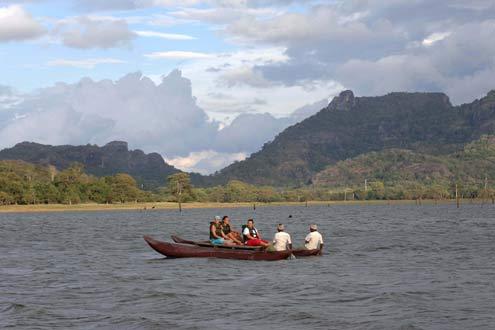 Info : Family Adventure Sri Lanka
An action packed holiday perfect for adventurous families with teenage children. An exciting mix of serious adventure; think animal safari and water fun with a hint of luxury! This trip is ideal for families who enjoy a busy holiday, who like to get off the beaten tourist trail, and who would like to experience something of the 'real' Sri Lanka.
Highlights Include:
• A stay at The Mudhouse
• A safari in Wilpattu National Park
• Witnessing 'The Gathering' of elephants at Minneriya
• Trekking in the jungle
• Canoeing and white water rafting
• Fun on the beaches of Galle
Pricing & Inclusions
From £2231 pp inclusive of flights from the UK.
(This price is based on a tour price of £1652 pp and international flights from the UK from £579 pp = £2231 pp)
Inclusions
- International flights
- Private Transfers and Transport
- Accommodation
- Chauffeur Guide Fees
ALL EXPERIENCE TRAVEL TOURS ARE TAILOR MADE, PRIVATELY GUIDED AND DELIVERED BY THE BEST CHAUFFEUR-GUIDES IN THE COUNTRY
Day-to-Day Itinerary : Family Adventure Sri Lanka
DAY 1 DEPART THE UK
Depart The UK for Colombo, Sri Lanka
DAYS 2 & 3 THE MUDHOUSE
You will be met at the airport and transferred to The Mudhouse where you will stay for two nights on a half board basis and enjoy an extraordinary start to your Sri Lankan adventure. There are lots of fantastic local adventures you can take here including swimming in local lakes and exploring rock temples. Enjoy your unique accommodation and special hospitality in the most beautiful and wild surroundings.
DAYS 4 & 5 WILPATTU NATIONAL PARK
You will be met this morning by your qualified and friendly chauffeur-guide, he will act as your guide for the rest of the holiday and your vehicle will be a modern minvan.
Your guide will take you to your next stop, the Palpatha Lodge located just on the edge of Wilpattu National Park. From the comfort the lodge you can make the most of this often overlooked portion of Sri Lanka - Wilpattu offers just as good sightings as the more famous Yala National Park but has far fewer visitors, allowing you to experience genuine wilderness. Two half day safaris are included here.
DAYS 6 - 8 CULTURAL TRIANGLE
Heading away from Wilpattu, explore Sri Lanka's Cultural Triangle from your base at the Back of Beyond Dehi Gaha Ela. This unique eco retreat is situated in dense forest with a variety of accommodation from tree-houses to rock cottages. The property is a great base from which to explore the man-made wonders of the Cultural Triangle. We include guided visits to Sigirya Rock Fortress, Polonnaruwa and Aukuna Standing Buddha. We also include an afternoon safari in Minneriya National Park where in the summer months it is possible to witness the incredible 'Gathering of the Elephants'.
DAYS 9 & 10 KNUCKLES MT. RANGE
You'll leave your car at the point at which the road ends and join a specialist local guide for a 4 hour trek to The Abode where you will stay for two nights and enjoy a wonderful adventure. The accommodation is extremely basic though the warmth and hospitality of the villagers is a joy. This experience will either be one of the best things you have ever done or it is not for you. There is very little middle ground as enjoyment requires full participation and enthusiasm. We have heard of the most jaded western teenagers having a fantastic time here!
DAYS 11 & 12 KITHUGALLA
On to Kithugalla, the venue for your white water rafting, canoeing and jungle trek. Borderlands, where you will stay for two nights on a bed and breakfast basis, is one of the quirkiest hotels in Sri Lanka, nestled on the banks of a river. The hotel is basic, the service is inconsistent but friendly and all in all this is a very unusual place to stay.
DAYS 13 & 14 THE HILL COUNTRY
From Kitulgala head east across the mountains to Landa Holiday Houses in Belihul Oya. Landa Holiday Houses are a fantastic base for a wide range of nature and adventure related activities. Try many activities from trekking across the Horton Plains (the Horton Plains mountain range is visible from the River Garden restaurant itself) to canoeing in the 'Samanalawewa' reservoir. Cycling, caving, trekking and bird watching can all be organised here yet it is wonderfully laid back and scenic. We include a visit to Horton Plains.
DAYS 15 - 17 GALLE COAST
From the hills you will head to Galle where you will be staying at a beachside Villa. Explore the town of Galle and the old Dutch fort or just spend three days soaking up the Sri Lankan sun!
DAY 18 COLOMBO
Transfer to Colombo where you'll spend your last night in Lake Lodge. Catch up on fine dining in some of the city's great restaurants, do some last minute shopping or let Mark Forbes guide you through the streets of Colombo on one of his excellent city tours.
DAY 19 DEPART SRI LANKA
Transfer to Colombo airport for your return flight to the UK.
Family Adventure Sri Lanka Hotels
You can book this holiday tour on its own, with flights or it can be tailored for you.
Here are the hotels and villas within this holiday as standard...

Community based tourism - life amongst the indigenous mountain people of the Knuckles Range

The Treehouse - one on Sri Lanka's most creative, seductive, and remote properties, in the heart of the wilderness

Excellent activity centre and riverside camp in adventurous Kithulgala

Colombo's best budget option. A superior property at budget prices.

Homely hotel offering nature and adventure sports away from the beaten track in mountainous Belihuloya.

Beautiful private villa near Galle perfect for combining complete relaxation and site seeing.

Stunning jungle lodge and hideaway with unique accommodation, superb service and off-the-beaten track excursions

Rustic lodge close to Wilpattu National Park
Family Adventure Sri Lanka Experiences
You can book this holiday tour on its own, with flights or it can be tailored for you.
Here are the experiences & activities within this holiday as standard...

Visit the 12 m high standing Buddha as the sun rises to see it glow.

Spend a few hours exploring Colombo's hidden gems with local expert Mark Forbes

Stunning wilderness National Park high in Sri Lanka's mountains

Jeep safari for elephant spotting around Minneriya Lake and surrounding National Park

Sri Lanka's third ancient captal, home to some of the finest stone carvings and monuments

One of the unofficial wonders of the world - a spectacular, must-visit ancient site full of mystery and intrigue

Thrilling ride down the Kelani River and its idyllic surroundings with experienced rafters.

Take a trip to Sri Lanka's largest National Park and immerse yourself in the wilderness
Request a Quote