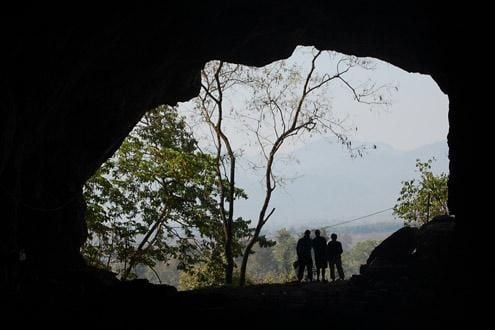 The caves around the village of Vieng Xai were home to the Pathet Lao leadership and thousands of civilians for almost a decade during the 'Secret War' that the United States of America waged on Laos between 1964 to 1973. Hidden amongst a spectacular range of limestone cliffs is a complex network of caves, some which which have recently been opened to the public. The caves were like underground cities, with hospitals, schools and even theatres.
A guided tour lasts about 2 hours and gives a great insight into the way the Pathet Laos was organised and the hardships they went through before eventually prevailing. The tour takes in a number of caves, from civilian hideouts to the most important locations where the politburo met and planned their tactics.
A number of important relics remain and the caves have been well maintained, with plans to gradually open more of them to visitors. It's currently possible to visit the caves and small rooms where the likes of Prince Souvannaphoum and Kaysone (the founding father of modern Laos) lived during these years. Most senior leaders also built themselves houses in front of the caves after the bombing had ceased and it is possible to walk around these.
The tour is an interesting insight into the war years and helps to understand how Loas developed subsequently, as most key players in the recent history resided there during the war.
The surrounding area is one of extreme beauty and driving along the quiet mountain roads is highly enjoyable. It is possible to visit the caves en-route to the land border with Vietnam.
Map centered on Vieng Xai Caves. Zoom out to view other hotels (H) and experiences (E) in the area.