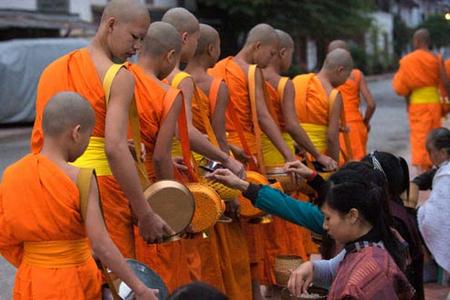 The mysterious and enchanting Luang Prabang captivates visitors with its timeless charm. Nestled beneath the majestic Phu Si Mountain on the banks of the Mekong and Nam Khan rivers, the town is packed with beautifully preserved architecture, regal palaces and sparkling temples. Of all the wonderful towns in Laos, it is often Luang Prabang that visitors remember with the greatest affection. The fabulous architecture, rich history and incredible location are coupled with a range of great cuisine and a friendly, welcoming population. Now a UNESCO world heritage site, conservation and preservation seems ensured and we would recommend going out of your way to experience the charm and allure first hand.
Luang Prabang has a small airport with regular flights to Bangkok and other regional centres. A great way to arrive or depart is by boat on the Luang Say cruise.
The town is now home to a selection of the best small hotels in the country. Perched above the town with spectacular views and luxurious comfort is the Residence Phou Vao. Similarly luxurious, the boutique Maison Souvannaphoum offers comfort and sophistication. The Apsara is a trendy, laid back boutique hotel with an excellent restaurant. Les 3 Nagas also comes highly recommended. Eco lovers could well consider combining the cultural aspect with greater exploration of the area's natural beauty. Laos Spirit has great activities while the excellent Kamu Lodge can be reached by a short boat trip from Luang Prabang or included in the cruises up and down the river.
Hotels in Luang Prabang & The North