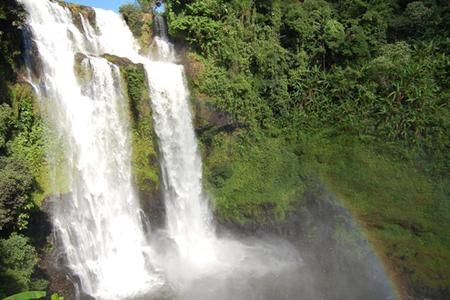 Southern Laos is known for its highlands and plateaus, waterfalls, temple ruins, Mekong Islands, relaxed ways and its sense of timelessness. The small city of Pakse in Champassak Province is the main hub for the region, and access is available via direct flights from Vientiane or Siem Reap, or via nearby Ubon Ratchatani in Thailand just across the Chong Mek border.
Highlights for visitors to this area include the Bolaven Plateau with its pleasant climate, tea and coffee plantations, waterfalls and ethnic minority villages, Wat Phu Champassak – a Khmer temple ruin and UNESCO World Heritage site, and the Si Phan Don ('Four Thousand Islands') area of the Mekong River near the Cambodian border with its many islands, rapids and waterfalls (Khon Phapheng Falls are often said to be the largest in Southeast Asia) small traditional villages, and the incredibly endangered freshwater dolphins that still remain in this part of the Mekong River.
There are a number of properties in this region that we highly recommend. The Vat Phou Cruise is a magical two night trip exploring the ancient temples and mighty Mekong River. The Tad Fane Resort sits majestically perched above a valley overlooking two huge waterfalls and is the ideal base for exploring the Bolaven Plateau. The Pakse Hotel andChampa Residence are good options in Pakse itself.
OUR FAVOURITE HOLIDAY INCLUDING PAKSE & THE SOUTH
Hotels in Pakse & The South