Laidback Laos has a climate to match. With no coastline to stir up troublesome storms, the country's weather system is pretty simple: there's a wet season (May to late September) and a dry season (October to late April). Outside of that, altitude and latitude generally exert the strongest influences: the higher you are or the further north you are during the dry season, the cooler you'll be.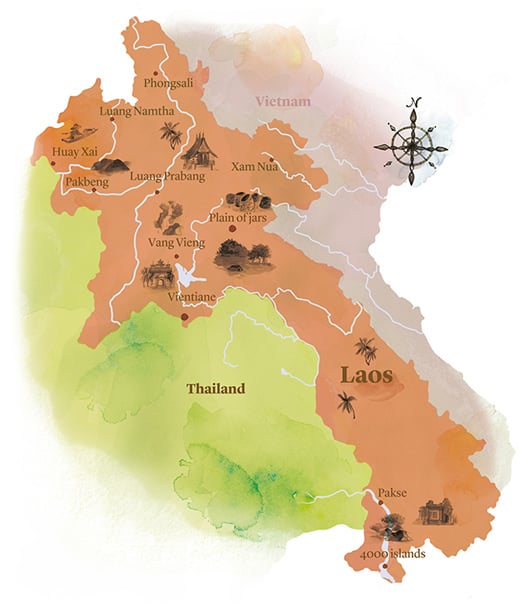 When to visit Laos
(Quick Summary)
Best Time
November - March
---
Monsoon Season
May - October
---
Beach Season
N/A
---
Wildlife
May - June (Nam Ha and Nam Et National Parks
February - April (4,000 Islands, Irrawaddy dolphins)
---
Weather in Laos throughout the year
January - February
A lovely time to visit, with dry conditions throughout the country. Main cities should be in the comfortable mid-twenties; the lower-lying parts of the south nearer to 30°C. Bring warm layers if you're heading to the north or high altitudes, as it can get cold at night.
March - April
Things start to heat up in Laos in March and April. It will be hot and dry across the whole country, and further to this farmers will start "slash and burn", an agricultural practice used to burn the remaining leaves and plant life leftover from the harvest. Lao New Year – Boun Pi Mai Lao (the water festival) – falls in mid-April and is always a blast. Everyone's welcome to join in the wet celebrations, but prepare to get soaked if you do!
May - September
Laos's wet, or green, season; the rain brings the return of lush landscapes countrywide. It's still hot and humid, especially in the south. Showers, while heavy, don't last all day, so this remains a great time to travel, especially if you'd like to see Laos' stunning scenery at its peak.
October
By October, the weather in Laos will start to turn itself around as the rains begin to ease off and the dry season approaches. The whole country is lovely at this time of year, and whilst there is still a small chance of showers and temperatures are a little lower than other months, it is still by no means cold with temperatures averaging 24-26°C.
November
The dry season's back by November in Laos, which makes this a brilliant time to explore. The rains have passed, leaving astonishingly verdant rural areas, but rivers are still running high, making this an ideal month for boat trips. Expect pleasantly warm temperatures, except in the cooler Northern Highlands.
December
In December, the weather in Laos is excellent, with minimal rain and lots of sunshine. The temperatures across the country are generally at their lowest, and it can get quite chilly at night when at altitude or in the north, but otherwise it's a very popular month for travel.
DOWNLOAD YOUR FREE TRAVEL GUIDE
Download your Laos travel guide for:
Expert advice on where and when to travel
Top places to visit, including the main sights with a twist and hidden off-the-beaten-path experiences
Best places to relax and recommended boutique hotels
Our guide will be followed by a handful of emails full of travel inspiration. Curious to learn more? Give us a call on 020 3811 2247. We love talking travel
The Seasons in Laos
Many would argue that the dry season (October to late April) is the best time to go to Laos. In October, temperatures sit around a comfortable 25°C. It can become cool during the UK's winter months, particularly at altitude or as you go further north. As it moves into the spring, the temperature starts to rise, and by March and April, it is hot and dry throughout the country, with temperatures averaging 30°C around Luang Prabang and up to 40°C in the south. Bear in mind that at this time, the burning of the fields and lower water levels can make the countryside less attractive.

With warm, temperate weather and rains generally restricted to short, sharp showers, the wet season in Laos (or green season, as it is known locally) does not necessarily mean that you should avoid travel. Many people argue that September to November is the best time to visit Laos, with the beautiful landscape lush and the rivers and waterways awash with monsoon rains.

In short, travel throughout the year can work well, but if you are planning a luxury holiday to Laos and have flexibility, it is worth thinking about the pros and cons of each period and what is best suited to you. Luckily our experts are here to help, so please feel free to pick up the phone, so we can help you work out the best time for you.

'Beach' season in and out of Laos

With no coastline, there are no sea beaches in Laos, but that does not mean there are no options when it comes to a relaxing end to your holiday. In the South, there is a range of hotels on the banks of the Mekong, including some that have their own sandy beach. The best time to visit these riverside hotels is during the dry season.

For those looking for a more traditional beach stop, there are options throughout the year across Southeast Asia. The beaches and islands of Thailand, Vietnam and Cambodia work throughout the dry season, while central Vietnam, Malaysia and the Indonesian islands off Singapore work well throughout the summer.

Key Dates and Festivals

Laos is home to many ethnic groups and has a range of festivals to match, although the biggest event is Boun Pi Mai Lao (the water festival) that takes place in mid-April to celebrate Laos New Year. Officially lasting three days, the festivities often continue for a full week and along with parades, expect to see huge water fights in the streets. Everyone is welcome to join in, but do expect to get very wet.

Other festivals include Boun Bung Fai, which sees locals fire homemade rockets into the air to ask the spirits to end the hot season (around May or June) and bring on the rains. Later in the year, usually around October, there are also boat races on the Mekong around Wat Phou and parades to mark the end of Buddhist lent.
Meet the Laos experts
Becky
Becky joined the Experience Travel Group team in July 2012, but was an explorer from a young age, thanks to her globe-trotting parents. Southeast Asia was where her young journeys began and later, combining her passion for history with travel, she delved into the culture, religions and traditions of Asia and the Middle East. Becky also spent a year studying at the University of Otago, in New Zealand, as part of her History degree.
... Read more
Call Becky
Nick
Our Head of Travel, Nick loves exploring life in Asia and over the past decade he has spent a great deal of time in Sri Lanka, Cambodia, Thailand, Myanmar and Laos. To add to his impressive repertoire, Nick also pioneered our Indonesia holidays and having done exhaustive tours to Bali, Java, Flores and Indonesian Borneo he is passionate about extolling the virtues of this often overlooked country.
... Read more
Call Nick
James
James didn't leave Europe until he was 19, first venturing to California for three months and then four months in South America. But it was his first trip to South East Asia, travelling from Hanoi to Bangkok overland, which really captured his imagination. A few years later he embarked on an epic eight-month tour of India which saw him, among other things, working in the holy city of Varanasi and volunteering in a rural development commune in southern Kerala. James has since been back to India over ten times, and travelled to Malaysia and Borneo, becoming obsessed with the street food of Penang in the process. More recently he's been to Bali and Lombok where he particularly enjoyed climbing Mount Rinjani, Sri Lanka where he fell in love with the Mudhouse and back to off-the-beaten track Sikkim in India.
... Read more
Call James
As Featured In