Bhutan has four distinct seasons, with the pleasantly temperate spring (March to May) and autumn (September to November) being the most popular times to visit. While the winters do get icy cold, and summers can be wet (the annual monsoon tends to hit between June and August), we would argue that there is no definitive "best" time to go to Bhutan; each season offers something distinctly special, especially as you travel from region to region.
What's more, Bhutan is rollercoaster of mountains and valleys, ranging from 200 to an impressive 7,000 metres above sea level. So, unsurprisingly, the weather varies dramatically depending on the altitude: in essence, the higher you go, the cooler it gets, though the populous central region has a relatively stable climate year-round. Here is our breakdown of seasonal weather in Bhutan - please do get in touch for personalised advice relating to your own trip.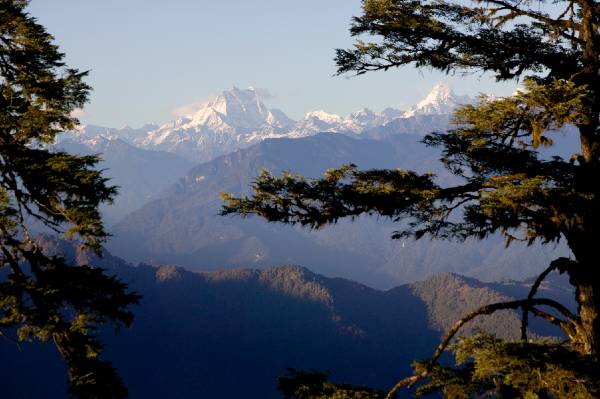 When to visit (Quick Summary)
Best Time
Late Sept/Oct to November
March and May
---
Monsoon Time
May to mid Sept
---
Rhododendron Season
March to May
---
Festivals
All year round although most popular ones in October (main towns/cities)
---
January - February
This is the coldest time to visit Bhutan, with temperatures across the country frequently dipping below zero. Anywhere above 3,000 metres is likely to see substantial snow and strong winds, making trekking in the highlands untenable. Occasionally, remote regions may be cut off due to extreme conditions. However, the central and southern region will be warmer and still accessible for hiking.
March - April
Widely considered one of the best times to travel, spring sees pleasant temperatures and mostly clear skies, which means the incredible landscapes are at their best. Rainfall and humidity are low at this time. This is also the famous rhododendron season and it is a great time to go trekking.
May - June
Bhutan's long summer begins at the start of May and sees increased humidity and rainfall. But before the arrival of the monsoon in late June, this can still be a good time to visit, with warmer temperatures throughout the country and shoulder-season rates.
July - August
July is the warmest month in Bhutan, with temperates in the east reaching up to 31.5°C. The Indian monsoon is generally in full swing by this time, with rainfall at its peak. While trekking conditions are not ideal, you could still do some sightseeing and pamper yourself in a spa (and certainly snap up some excellent hotel deals).
September - October
Autumn comes in late September and sees the start of another peak season, with October being the most popular month to travel. The weather tends to be bright and crisp at this time of year so you can expect spectacular views and great trekking conditions. Temperatures reach around 25°C, but it gets cooler in the evenings and at higher altitudes.
November - December
Winter begins and temperatures will start to dip again, especially in Paro. November is the best time to see the famous black-necked crane - an excellent reason to visit, but be sure to book well in advance. Despite the crisp temperature, we think early December can be an excellent time to visit: skies are mostly clear and blue, trekking conditions are fantastic and you can take advantage of low season rates too.
Download your free Bhutan travel guide
Enter your details for:
Expert advice on where and when to travel
Top places to visit, including the main routes, key festivals and unique experiences
An in-depth story from our clients on their pioneers trip
SOME OF OUR FAVOURITE HOLIDAYS TO BHUTAN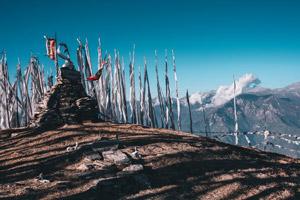 Bhutan In Depth
Go further afield on this two week in-depth holiday covering the valleys and iconic sites of this wonderful Kingdom.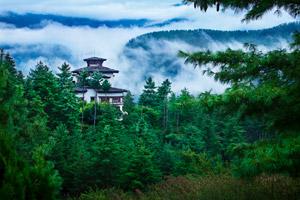 India's Golden Triangle & Bhutan's natural beauty
Combine an exploration of the historical sites of Rajasthan with the pristine scenery and culture of Bhutan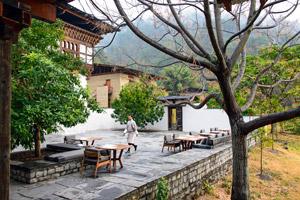 Luxury Bhutan
Incredible hotels in amazing locations add the icing on the cake to the one off experience of exploring Bhutan.
As Featured In
Specialists
We've been there, tried it, listened to your suggestions and improved it.
---
Trusted
We are full members of ABTA, AITO and hold an ATOL number 9324. We offer 100&percent; financial protection.
---
Experience
Your holiday will be privately guided and fully flexible. It's your holiday and we listen.