Bhutan has four distinct seasons, with the pleasantly temperate spring (March to May) and autumn (September to November) being the most popular times to visit. While the winters do get icy cold, and summers can be wet (the annual monsoon tends to hit between June and August), we would argue that there is no definitive best time to go to Bhutan. Each season offers something distinctly special, especially as you travel from region to region.
What's more, Bhutan is a rollercoaster of mountains and valleys, ranging from 200 to an impressive 7,000 metres above sea level. So, unsurprisingly, the weather varies dramatically depending on the altitude: in essence, the higher you go, the cooler it gets, though the populous central region has a relatively stable climate year-round.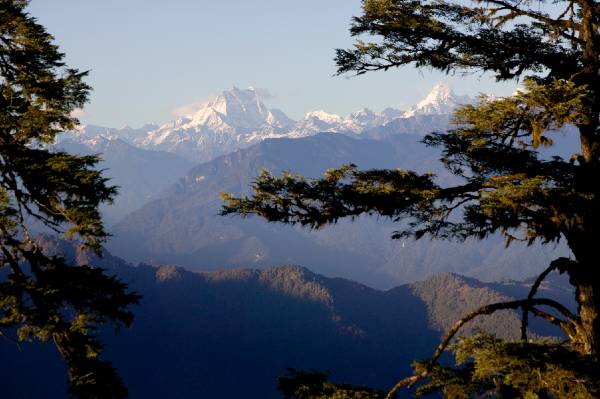 When to visit Bhutan
(Quick Summary)
Best Time To Visit
March to May
Late September to November
---
Monsoon Time
June - August/early September
---
Rhododendron Season
April to July
---
Festivals
All year round although most popular in February, March, April & September October, November.
---
Weather in Bhutan Throughout the Year
January - February
This is the coldest time to visit Bhutan, with temperatures across the country frequently dipping below zero. Anywhere above 3,000 metres is likely to see substantial snow and strong winds, making trekking in the highlands untenable. Occasionally, remote regions may be cut off due to extreme conditions. However, the central and southern region will be warmer and still accessible for hiking.
March - April
Widely considered one of the best times to travel, spring sees pleasant temperatures and mostly clear skies, which means the incredible landscapes are at their best. Rainfall and humidity are low at this time. This is also the start of the famous rhododendron season and it is a great time to go trekking.
May - June
Bhutan's long summer begins at the start of May and sees increased humidity and rainfall. But before the arrival of the monsoon in late June, this can still be a good time to visit, with warmer temperatures throughout the country and shoulder-season rates. The rhododendron season is in full swing.
July - August
July is the warmest month in Bhutan, with temperates in the east reaching up to 31.5°C. The Indian monsoon is generally in full swing by this time, with rainfall at its peak. While trekking conditions are not ideal, you could still most of the sightseeing and enjoy one of the many gorgeous hotels (and certainly snap up some excellent deals to do so in this otherwise notoriously pricy country).
September - October
Autumn comes in late September and sees the start of another peak season, with October being the most popular month to travel. The weather tends to be bright and crisp at this time of year so you can expect spectacular views and great trekking conditions. Temperatures reach around 25°C, but it gets cooler in the evenings and at higher altitudes.
November - December
Winter begins and temperatures will start to dip again, especially in Paro. November is the best time to see the famous black-necked crane - an excellent reason to visit, but be sure to book well in advance. Despite the crisp temperature, we think early December can be an excellent time to visit: skies are mostly clear and blue, trekking conditions are fantastic and you can take advantage of low season rates too.
Download your free Bhutan travel guide
Enter your details for:
Expert advice on where and when to travel
Top places to visit, including the main routes, key festivals and unique experiences
An in-depth story from our clients on their pioneers trip
Weather in Bhutan by season
Most people consider the best time for a luxury Bhutan holiday to be during the spring (March to May) and autumn (September to November). During these months, the weather in Bhutan tends to be temperate, dry and sunny. Each valley is at a different altitude, which affects the temperature: at a lower altitude, Punakha is the warmest valley, while Gangtey is higher and therefore cooler. So daytime temperatures in Bhutan can vary depending on the valley, ranging from 15 to 25 degrees Celsius in both the spring and autumn; whereas night time ranges between 0-12 degrees Celsius. Spring is when the vast rhododendron forests bloom, and the fields become lush with wildflowers. Autumn in Bhutan is harvest time, and you will see farmers tending their rice fields, especially in Punakha. The hills and mountains turn an autumnal dry yellow as the deciduous forests drop their leaves and there is a chance of some early snowfall at the high mountain passes. Spring and autumn are the best time to visit Bhutan for off-the-beaten-track trekking, with overnight camping and to higher elevations.
During the winter months (December to February), the weather in Bhutan is colder with temperatures comfortable in the day, ranging from 9-17 degrees Celsius, but night temperatures dropping to minus 6 degrees to 5 degrees Celsius. Winter brings a dusting of frost throughout much of the country which burns off through the day, and snowfall is common at elevations over 3,000 meters. Most of the high altitude trek routes are closed in winter, but it is still possible to go on daily walks in the valleys and even up to the famous Tiger's Nest Monastery. Conditions are perfect for this kind of excursion, with clear blue skies and weak shining sun, and there will be fewer tourists at the must-see sights. Plus, winter nights in Bhutan are lovely and cosy thanks to the traditional Bukhari, or wood burners, that furnish every hotel.
The Monsoon months in Bhutan are June, July and August. The Himalaya act as a shield so even at this time there is limited rainfall or strong winds in Bhutan, and typically it rains at night or the early morning. It's the best time to see alpine flowers in blossom on the trails, and your guide can time sightseeing around the showers.
Best Time to Visit Bhutan: Events and Festival Guide
Spring and Autumn are also the best time to go to Bhutan to witness the cultural spectacle of festivals or Tsechu. During Tsechu, monks perform masked dances in Bhutanese Dzongs or fortresses. Locals and the Royal Academy of Performing Arts also perform folk songs and dances. Many Bhutanese people congregate from remote rural areas for these festivals. The local crowd all sport their Sunday best too, so there is a real sense of occasion.
Autumn is also when the endangered black-necked cranes migrate to Bhutan over the Himalaya from Tibet and make the valley of Phobjikha their winter home. This is an event not to be missed for avid birdlife enthusiasts and quite a spectacle even for the uninitiated. What's more, their arrival is celebrated in the courtyard of Gangtey Goempa, by the Black Necked Crane Festival – a community celebration with folk songs and dances (some in black-necked crane costumes!) performed by local people including school children.
Springtime is when the Rhododendron Festival is celebrated, with garden walks and exhibitions at botanical gardens, stalls for traditional food and cultural dance performances as well as traditional Bhutanese games such as archery and darts!
Tshechu are held in various locations at different times based on the Bhutanese lunar calendar, so please do speak with your consultant to time your visit to incorporate one of these unique festivals, it really will be a highlight of your holiday!
Meet the Bhutan experts
Nick
Our Head of Travel, Nick loves exploring life in Asia and over the past decade he has spent a great deal of time in Sri Lanka, Cambodia, Thailand, Myanmar and Laos. To add to his impressive repertoire, Nick also pioneered our Indonesia holidays and having done exhaustive tours to Bali, Java, Flores and Indonesian Borneo he is passionate about extolling the virtues of this often overlooked country.
... Read more
Call Nick
020 7924 7133
James
James didn't leave Europe until he was 19, first venturing to California for three months and then four months in South America. But it was his first trip to South East Asia, travelling from Hanoi to Bangkok overland, which really captured his imagination. A few years later he embarked on an epic eight-month tour of India which saw him, among other things, working in the holy city of Varanasi and volunteering in a rural development commune in southern Kerala. James has since been back to India over ten times, and travelled to Malaysia and Borneo, becoming obsessed with the street food of Penang in the process. More recently he's been to Bali and Lombok where he particularly enjoyed climbing Mount Rinjani, Sri Lanka where he fell in love with the Mudhouse and back to off-the-beaten track Sikkim in India.
... Read more
Call James
020 7924 7133
Sara
Sara was bitten by the travel bug straight after university, and her working life has been peppered with sabbaticals before deciding on a career in the Travel Industry in 2012. She worked for two of the UK's leading tour operators organising tailor made trips to India and Sri Lanka, before joining ETG.
... Read more
Call Sara
020 7924 7133
As Featured In