Stuck in my office in Wandsworth putting together tours for people in Vietnam is a decent way to make a living. My thoughts do wonder sometimes though, to the places I am working on, and where I would like to go next.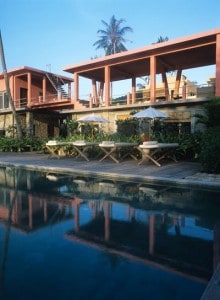 With 2 small children, much of this is purely a pipedream, but number 1 on the list has to be Kep in Cambodia and Knai Bang Chatt in particular.
My colleague, who visited recently, came back raving about the laid back charms of Kep, the delicious buckets of Kampot Pepper Crab available in the markets at a dollar a throw, the hike up Bokor mountain to see the ethereal abandoned hilltop colonial resort up there and dreamy boat trips out to empty paradise islands. Having loved the rest of Cambodia, but missed Kep on previous visits, I am most keen to get back.
He also said that Knai Bang Chatt was the best hotel he had ever stayed in. That would all depend on what you're looking for, but personally, the converted villas sound fantastic, and the thought of the food – a cunning French and Khmer fusion, too good to be true.
Rick Stein recently stayed in Kep as part of his Far Eastern Odyssey, and stayed at Knai Bang Chatt, spending quite a bit of time on camera talking to the erudite French owner. Last heard this series, which I thought was fantastic, was still available on BBC Iplayer. Word of warning though – make sure you have some tasty eastern food on hand, or at least a Thai takeaway menu before watching!