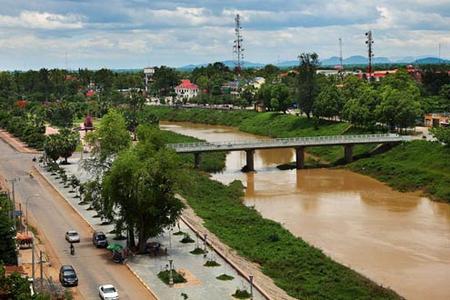 Two hours South West of Siem Reap is Battambang, a fascinating city that is only beginning to get the credit, and tourists, that it deserves. Awash with French era colonial villas and with the unmistakable buzz that only Cambodia can provide, the town provides visitors with an authentic urban experience that cannot be found in the tourist hotspots of Phnom Penh and Siem Reap.
Providing arguably the best street food in the country and a busy central market, it is a lovely town to simply explore on foot, criss-crossing the river as you go. The best accommodation can be found in some wonderfully restored colonial villas in the heart of the city, including La Villa and Bambu. For those not 'templed out' by Angkor there is the nearby Phnom Banan, a small hill temple providing a wonderful vista of the plains below and showing the scars from the civil war years. For many the highlight of Battambang is a sunset ride on the wonderfully imaginative and quirky bamboo train - a flat, homemade bamboo platform placed on rail wheels and then powered by an outboard motor – for a picnic in the rural paddy fields that surround the town. Evenings are best spent eating street food on the river front or in one of the colonial themed cocktail bars/restaurants.
Call us now on 020 7924 7133 or arrange a call back at a time that suits you.