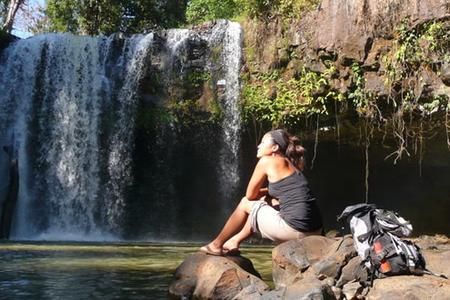 Completely off the beaten track, Cambodia's North East is one of the few remaining true hidden gems in South East Asia. Ban Lung, the capital of Ratanakiri Province on the Laos and Vietnam borders, is a market town with a genuine wild-west appeal. A stay at Terres Rouge combines colonial grandeur with the idyllic and remote countryside all around. As it still takes a long time to get there, it is worth spending at least three nights in the area but there is plenty to do in that time. There is the famous Yeak Loam Lake – a perfectly spherical crater lake that is a great place for a swim and a picnic, peaceful walks and a wide number of fascinating and remote ethnic villages to visit.
On route to Ratanakiri are two market towns on the banks of the Mekong River that act as a stopover point on any journey north. Kratie is most famous for being the base for the boat trips to see the rare fresh water Irrawaddy dolphins. The town and its accommodation are not particularly exciting, but like the border town of Stung Treng, it is well worth breaking up the long journey with an overnight stay.
Call us now on 020 7924 7133 or arrange a call back at a time that suits you.
Some holidays featuring the north east of Cambodia: