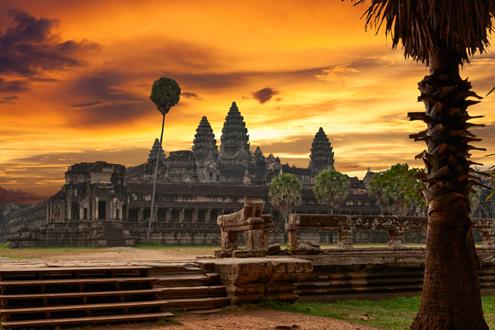 The Temple Safari is a unique and adventurous way to experience the awe-inspiring temples of Angkor and beyond. The Angkor complexes were built by various Hindu and Buddhist Kings between the 8th and 13th centuries and are spread over a vast area. If you want to further explore the region and experience lesser visited but equally majestic temples, this could be just the trip for you.
Heading off from Siem Reap in Toyota Land cruisers with experienced staff, the Temple Safari heads to the far less frequently visited complexes of Koh Ker and Beng Mealea in the remote north of Cambodia. Beng Mealea is on the same size and scale as Angkor Wat. Koh Ker is a 10th century capital with spectacular panoramic views from the peak. Roads to these areas have only recently cleared and the journey will take you on bumpy trails through rural villages and deserted forest wildernesses en-route to the temples. Longer trips can take in the awe-inspiring Preah Vihear, an imposing mountain top temple close to the border with Thailand. Six hundred metres above the plains below, it offers dramatic views and has only recently been made accessible by road. Preah Khan, an equally vast and remote complex, can be included in the safari.
Trips can be tailored to individual time-frames and guests can stay for one or two nights. There are so many temples to be seen in this area and the staff will help you see as much as possible. Accommodation is in luxury tented camps, complete with mattresses, separate toilets and bathrooms. The price includes all meals, transport and temple entrance fees. Some quality extra touches include cold face towels and cool water throughout the day. Tents are pitched around the temples, often not far from small settlements, ensuring an unforgettable experience and a unique insight. Unique, unusual and great fun for the adventurous.
Eco/Adventure - This category covers gorgeous lodges in the jungle, comfortable safari camps and dreamy, but simple, beach cabanas. These places defy conventional categorisation: what is communing with nature to one person may be terrifying bugs to another! Many of these places are very comfortable and the service generally of a very high level - but please read the website review carefully and/or talk to us and be sure to have understood what you are letting yourselves in for!