India is vast. Trying to describe its climate is like trying to sum up the weather in Europe – it's incredibly varied! At any point in the year, there will always be lovely places to go in India, but different regions have their own climates and, unfortunately, weather patterns don't run like clockwork. There is one distinct monsoon from June to August, and broadly speaking, you can visit most areas from October all the way through to March. For more specific regional information, please read on, or call us to speak to a specialist about a luxury holiday to India.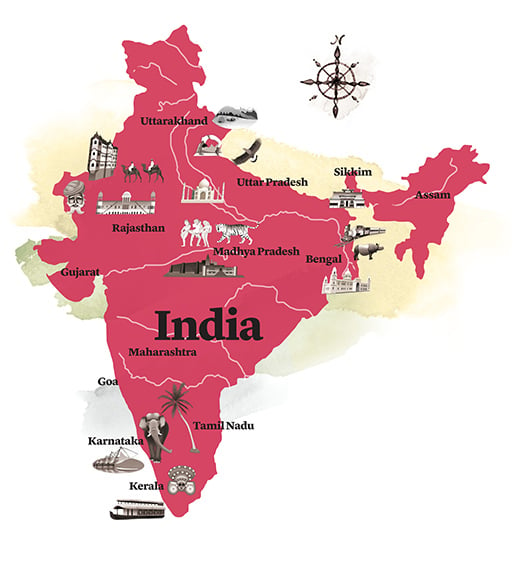 When to visit India
(Quick Summary)
Best Time
October - April (ex. parts of Himalayas)
April - May (Sikkim/Himachal Pradesh)
May - September (Ladakh)
---
Monsoon Season
May - September (Entire country)
October - November (Tamil Nadu)
---
Beach Season
October - April (Kerala & Goa)
January - May (Tamil Nadu)
January - July (South west coast)
---
Wildlife
October - June (All national parks)
---
Weather in India throughout the year
January – March
This is generally the peak time across the whole country. A fantastic time to visit Rajasthan: hot in the day, cooler at nighttime. Delhi, Agra and Madhya Pradesh are ideal with warm sunny days, but beware cold dusks/dawns for safaris! South India is warm day and night.
April – May
The heat and humidity are starting to build up in most regions in this pre-monsoon period. The exceptions are Sikkim and Uttarakhand, where the conditions are ideal, with sunny days and clear mountains views. It may be too hot for some in the northern and central regions (as high as 40 degrees!). Wildlife viewing can be fantastic in Madhya Pradesh, but it's seriously HOT.
June – July
The monsoon breaks across the country and brings relief from the humidity, and there will be some heavy rainfall, albeit mostly in short, sharp bursts. The beaches are not so good in the south and tourism generally winds down in those areas. The trekking is excellent in the Himalayan region of Ladakh.
August
Generally, the monsoon is starting to dissipate, and mid-August onwards is an excellent time to visit Rajasthan as temps are around the low 30's. It's quiet, for the most part, reasonably dry and hotel prices are low. It is well worth considering for family visits during the long school holidays.
September – October
Temperatures are still high, but cooler than in May or June and by October it's creeping back into peak season across most of the county. Decent weather in September makes Rajasthan very attractive for anyone wishing to avoid the crowds. High winds make sea conditions rough in the south. The Himalayan regions of West Bengal and Sikkim are excellent at this time too.
November – December
This is the high season for most of the country and a great time to visit India. It can get a little cold in the mountainous regions of Sikkim at night but is lovely during the day. The south of India goes into peak season, with perfect touring and beach weather. In Madhya Pradesh, Agra and Delhi, watch out for fog and cold in the mornings once you hit mid-December.
Download your complimentary guide to India
Enter your details for:
Expert advice on where and when to travel

Where to go for a first-time visit

Our collection of recommended hotels and how to slow a visit to India down
Our guide will be followed by a handful of emails full of travel inspiration. Curious to learn more? Give us a call - we love talking travel.
Weather in Rajasthan and the Golden Triangle

One of the most popular destinations for tourists, Rajasthan is home to the iconic cities of Jaipur, Jodhpur and Udaipur and forms part of India's famous Golden Triangle (Delhi and Agra being the other two points of the triangle, along with Jaipur). Generally, the best time to go to Rajasthan and the Golden Triangle is from October to March, when the region is warm, sunny and not too humid. However, it is worth noting one key exception. From late December to at least mid-January, a dense fog seeps across Delhi and Agra in the mornings, which can drastically reduce visibility (you could find yourself standing in front of the Taj Mahal, and only just make out its outline). This period also gets significantly colder, especially early in the morning and at night, so we generally advise travellers to avoid this period and visit either at the start or end of the season.
Weather in Madhya Pradesh

The inspiration for The Jungle Book, Madhya Pradesh is a central state of India known for its remarkable wildlife. If you're looking to follow in Kipling's footsteps, visit from October to June when the national parks are open. Each month has its merit in terms of climate and sightings. November to February tends to be cooler, which is great if you struggle with intense sun, but in our opinion, March and April are the best months as there is water scarcity and vegetation is drier. This means that animals like tigers and leopards come to limited waterholes, improving your chance of sightings. Be prepared for the heat, though! We also advise travellers to avoid mid-December to early February as it can be very cold in the morning and, like in Delhi and Agra, there is often a layer of mist.
Weather in Kerala

With miles of lovely coastline and fascinating culture, the southern state of Kerala is popular for beach holidays in India. Overall, the winter season between October to March tends to be the best time to visit Kerala, as the weather is warm, sunny and not too humid. The end of November to mid-December in Kerala is particularly lovely as the rains of the monsoon have recently passed, which makes the inland landscapes lush and green, and it isn't as busy as in January and February - the key tourist months. While April is considered 'off-season' in Kerala, the weather is generally still fairly reliable and the low prices and tourist numbers make it an attractive time to visit, particularly for families. To experience the famous Keralan backwaters, we'd recommend visiting between October to mid-March for the most reliable cruising weather.
Weather in the Himalayas

If you wish to spend time in the foothills of the Himalaya in towns like Darjeeling and Shimla, September to April is your best bet... with a couple of caveats: there is likely to be some snowfall from mid-December to February in Shimla and possibly Darjeeling, which we can plan around if you would prefer to avoid. Further up in the mountains, Ladakh and Leh are at their best in the UK summertime, for crisp sunny days and pleasant conditions for walking at high altitudes.
When to visit India: Key Events and Festivals
With such a range of cultures, religions and ethnic groups, India's annual calendar is full to the brim with exciting festivities. Two of the biggest across the country (and most exciting for travellers to experience) are Deepavali (or Diwali) and Holi. Deepavali is the Hindu festival of lights, celebrated over five days in October or November to commemorate the triumph of good over evil. This is a fantastic time to visit India as many parts of the region come alive with twinkling lanterns, music and festive energy (please note, however, that in the last few years there has been a lot of smog in early November in Delhi). Holi, or the festival of colours, hails the coming of spring in March and is most famous for the bright powdered paints thrown in celebration. Holi is very popular among tourists, and we at Experience Travel Group can arrange brilliant Holi experiences that take you into the heart of the local action.

Further significant Hindu festivals include Dussehra, Ganesha Chaturthi and Onam Festival. Dussehra takes place in September or October in Bengal and usually sees fantastic weather, despite being humid in Kolkata, which can make it a brilliant event for your trip. Ganesha Chaturthi comes in August or September in Mumbai and marks the birth of Lord Ganesha.
Onam Festival is a 10-day harvest celebration that takes place in Kerala in August. The weather at this time is unpredictable, but the colour and atmosphere make it quite the experience.

Another annual event worth mentioning is the valley of flowers in Uttarakhand that blooms in July; an absolutely stunning spectacle. This region has a distinctive culture and cooler climate, making it an excellent alternative to the rest of the country during the monsoon months.
Meet the India experts
Nick
Our Head of Travel, Nick loves exploring life in Asia and over the past decade he has spent a great deal of time in Sri Lanka, Cambodia, Thailand, Myanmar and Laos. To add to his impressive repertoire, Nick also pioneered our Indonesia holidays and having done exhaustive tours to Bali, Java, Flores and Indonesian Borneo he is passionate about extolling the virtues of this often overlooked country.
... Read more
Call Nick
Sara
Sara was bitten by the travel bug straight after university, and her working life has been peppered with sabbaticals before deciding on a career in the Travel Industry in 2012. She worked for two of the UK's leading tour operators organising tailor made trips to India and Sri Lanka, before joining ETG.
... Read more
Call Sara
James
James didn't leave Europe until he was 19, first venturing to California for three months and then four months in South America. But it was his first trip to South East Asia, travelling from Hanoi to Bangkok overland, which really captured his imagination. A few years later he embarked on an epic eight-month tour of India which saw him, among other things, working in the holy city of Varanasi and volunteering in a rural development commune in southern Kerala. James has since been back to India over ten times, and travelled to Malaysia and Borneo, becoming obsessed with the street food of Penang in the process. More recently he's been to Bali and Lombok where he particularly enjoyed climbing Mount Rinjani, Sri Lanka where he fell in love with the Mudhouse and back to off-the-beaten track Sikkim in India.
... Read more
Call James
As Featured In