India is a vast county with an incredibly varied weather system. At any point in the year there is always somewhere good to travel to, but the weather doesn't work on cue and weather systems can shift or be unpredictable. In general terms however, there is one distinct monsoon period from June through to August and, broadly speaking, you can visit most areas from October through to March and have a good chance of decent weather. For more in-depth info on: 1) rainfall and temperatures per month, 2) fun festivals to attend, 3) expert suggestions on when to get the best value whilst travelling, download our free 'insider' weather guide.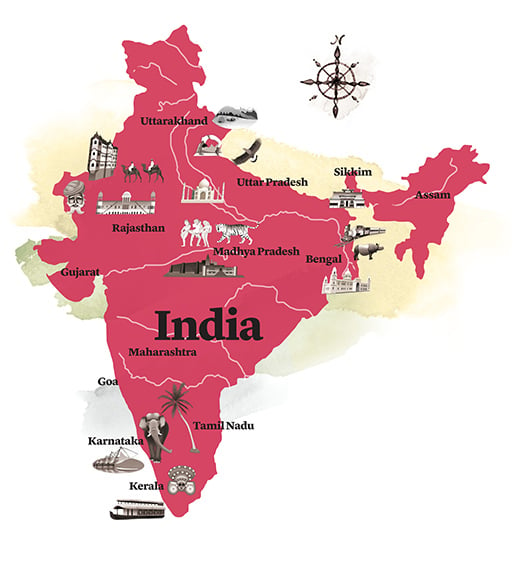 When to visit (Quick Summary)
Best Time
October - April (Entire country except parts of Himalayas)
April - May (Sikkim/Himachal Pradesh)
May - September (Ladakh)
---
Monsoon Season
May - September (Entire country)
October - November (Tamil Nadu)
---
Beach Season
October - April (Kerala & Goa)
January - May (Tamil Nadu)
January - July (South west coast)
---
Wildlife
Mid Oct - June (All national parks)
---
January – March
A fantastic time to visit Rajasthan: hot in the day, cooler at nighttime. Delhi, Agra and Madhya Pradesh are ideal with warm sunny days, but beware cold dusks/dawns for safaris! South India is warm day and night. Generally peak time across whole country.
April – May
The heat and humidity is starting to build up in most regions in this pre-monsoon period. The exception is Sikkim and Uttarkhand where the conditions are ideal, with sunny dates and clear mountains views. It may be too hot for some in the northern and central regions (as high as 40 degrees!) Wildlife viewing can be fantastic in Madhya Pradesh, but it's seriously HOT.
June – July
The monsoon breaks across the country and brings relief from the humidity and there will be some very heavy rainfall, albeit mostly in short, sharp bursts. The beaches are not so good in the south and tourism generally winds down in those areas. The trekking is excellent in the northern states.
August
Generally the monsoon is starting to dissipate and mid-August onwards is a good time to visit Rajasthan as temps are around the low 30's. It's quiet, for the most part reasonably dry and hotel prices are low. It is well worth considering for family visits during the long school holidays.
September – October
Temperatures are still high, but cooler than in May or June and by October it's creeping back into peak season across most of the county. Decent weather in September makes Rajasthan very attractive for anyone wishing to avoid the crowds. It is also a great time to visit Ladakh. High winds make sea conditions rough in the south.
November – December
This is high season for most of the country and a great time to visit India except in the mountainous areas where it can be very cold (especially around Sikkim). The south of India goes into peak season, with perfect touring and beach weather.

Download your free weather guide
Enter your details for:
Monthly averages for temperature and rainfall
When to visit for any festivals
An in-depth look at the weather month-by-month
SOME OF OUR FAVOURITE HOLIDAYS TO INDIA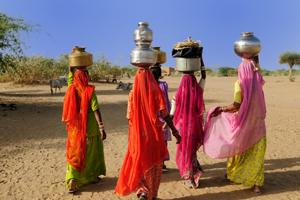 Essential Rajasthan with Taj Mahal
The relaxed pace allows you to enjoy the India in the fantastic heritage hotels, covering the main sites but also getting off the tourist trail.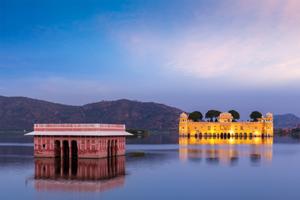 INDIA: THE ULTIMATE ITINERARY
On this holiday you'll uncover incredible India whilst staying in some of the world's best hotels including luxury tented camps and glorious converted palaces.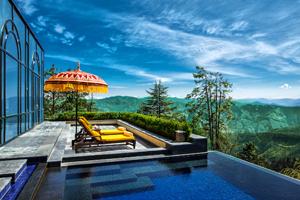 Himalayan Adventure
A glorious adventure in the foothills of the mighty Himalayas. Incredible scenery everywhere, wildlife and gentle trekking through remote villages.
As Featured In
Specialists
We've been there, tried it, listened to your suggestions and improved it.
---
Trusted
We are full members of ABTA, AITO and hold an ATOL number 9324. We offer 100&percent; financial protection.
---
Experience
Your holiday will be privately guided and fully flexible. It's your holiday and we listen.
Go Top