Expert advice on Indonesia weather and festivals
The vast archipelago nation of Indonesia is home to a broad range of weather patterns. As a result, researching when to go to Indonesia can bring up any number of answers - all of which are correct for different areas of the country - making things a little confusing, especially for the first-time visitor! Generally speaking, the perfect time for a holiday in Indonesia is between April and October (depending on the island). However, given that Indonesia stretches across 4,000km of sea and 17,000 islands, there are plenty of variations within this general rule. There are also many different cultural factors to consider when looking for the best time to visit Indonesia.
It's safe to say that most of Indonesia's islands are perfect during the European and US summer holidays. However, we argue that there is no single 'best time' for an Indonesian holiday - it simply depends on what you'd like to experience.
Below is a more detailed guide to the weather in Indonesia. Please get in touch with one of our specialists to discuss when to go to Indonesia in more depth.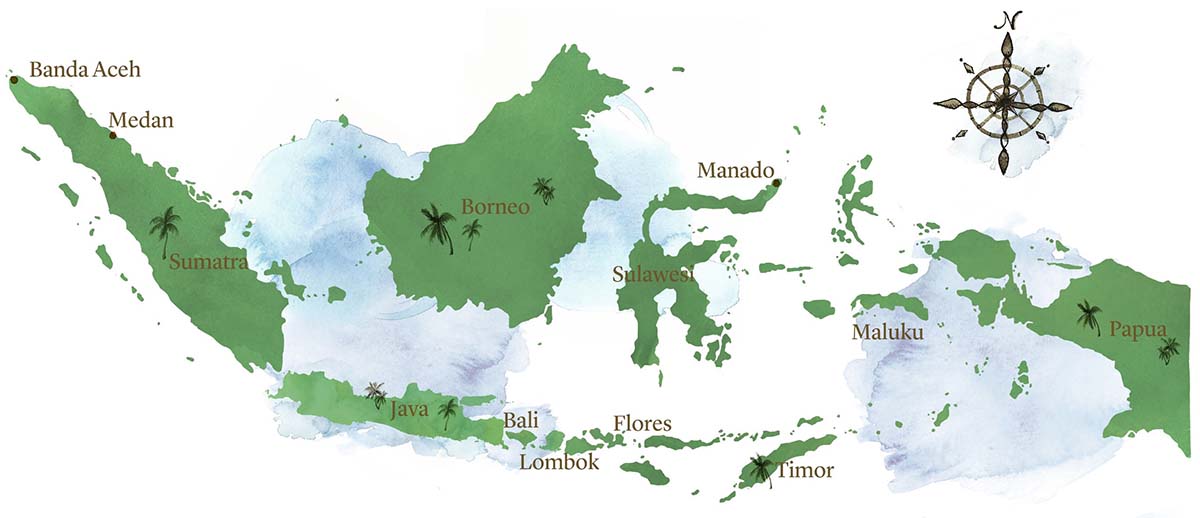 When to visit Indonesia
(Quick Summary)
Best Time
June - September
---
Monsoon Season
December - March
---
Beach Season
May - September
---
Wildlife
All Year
---
Weather in Indonesia throughout the Year
January - February
At the start of the year, Indonesia is firmly in its wet season, so if visiting in January or February, you can expect quite heavy rainfall and warm temperatures across most of the country. However, with temperatures hitting 30°C, the rain is often welcome as it helps take the edge off the heat. Rains fall off sharply in Sumatra, making this a tempting time to visit, though the Orangutans are elusive during these months. Rain also reduces in Sulawesi, particularly in the north, and while you can still expect rainfall in the south, that shouldn't put you off as it is beautiful and green at this time.
March - April
Parts of Indonesia are starting to come into season as March turns into April. The wet season is tailing off in Flores, Sumba and Komodo, though humidity remains high. While Bali in March still experiences very high humidity, there is some respite inland, and the island looks lovely and green. Sulawesi is getting dryer in the south and March is an excellent time for the wildlife in the north. As we get to April, Bali becomes extremely attractive again from a weather perspective - we think this is one of the best months to visit. There are usually fewer showers in Sumatra and Kalimantan as we move from March to April, and while Java remains overcast and rainy through March, this gives way to sunny skies in April. Indonesia's weather in April is excellent islandwide for all kinds of trips and activities.
May - June
Long days of brilliant sunshine and no rain make May to June an excellent time to go to Indonesia, particularly considering school holidays are yet to begin. The beaches are sun-drenched, the mountains are crisp and dry, and the skies are clear across the country. The hot weather has not yet dried out the vegetation, so the islands look beautiful too. The real beauty of May and June is that the full peak tourist season is still to come, so tourist hotspots such as Lombok, Bali, Borobudur in Java and Komodo have far fewer visitors.
July - August
July and August is the primary holiday season throughout pretty much all of Indonesia, with Lombok, Bali, Java, Sulawesi, Flores and Sumba all in their peak season. There is very little rainfall, and the humidity is low, making it a great time to visit. For these reasons, things get booked early, so make sure to book your summer holiday in Indonesia with plenty of time ahead to have access to the best hotels and guides. It's worth noting that in the further reaches of Indonesia - such as the Moluccas and Raja Ampat - you can occasionally find some monsoon winds that bring in a little rainfall during these months.
September - October
During September, Indonesia enjoys excellent weather. The benefit of September is that tourism numbers fall sharply, meaning you have the best of both worlds. This is true of Bali and Java, in particular, some of the most popular Indonesian destinations. October will see the slow return of the wet season, although there are still some pockets of excellent weather. The monsoon starts fully in December, so September and October in Indonesia present tremendou opportunities to enjoy dry sunshine and fantastic deals at the start of winter.
November - December
Indonesia's wet season starts in earnest in November, meaning that by December, rainfall is generally heavy throughout the country. There are dry spells in Bali, Java and Sumba in November, so don't rule it out entirely, but Sulawesi, Sumatra and Kalimantan experience heavy rainfall from November onwards. There are visitors to Bali in December, especially those 'searching for themselves' as opposed to a sunny beach, but the weather is unpredictable, and the seas can be rough at this time of year.
DOWNLOAD YOUR FREE WEATHER GUIDE
Enter your details for:
Monthly averages for temperature and rainfall
When to visit for any festivals
An in-depth look at the weather month-by-month
BEST WEATHER IN BALI
Since Bali is located just under 10 degrees south of the equator, the rainy season runs during the winter months - from December to February, when the rain fends off the higher temperatures and humid atmosphere. May and June in Bali offer clear skies and sunny days, and while the humidity may not have been entirely driven off yet, it's a perfect time for avoiding the busy season and school holidays. The idyllic weather in July and August makes Bali a massive draw for those looking for a tropical beach summer holiday. The weather remains lovely in September, and the month also sees tourism dropping considerably, making it an ideal time to visit Bali for a bargain.
WEATHER IN LOMBOK
Closely located to Bali, Lombok enjoys all the same weather patterns as its sister island. Like Bali, Lombok's tropical climate means that the best time to visit is during the Northern Hemisphere summer months, typically between June and September. Less visited than Bali, Lombok is a great place to escape the bulk of tourists during peak season.
WEATHER IN JAVA
West of Bali, Java's climate is similar to Bali and Lombok's. The showers of the rainy season can enter into May, though again, this is an excellent way to drive off the warmer temperatures of around 32°C. For those looking for relief from the heat, the mountainous regions of Java's interior are great for mitigating the tropical climate. It's also worth knowing that Java's south coast enjoys cooler summers than the island's north.
FESTIVALS IN INDONESIA
If you'd like to experience one of the myriad cultural festivals in Indonesia, below, we have shared some of the best to bear in mind:
The famous funerals of the Torajan people in southern Sulawesi offer a tremendous public spectacle, where visitors are positively encouraged. There is such a thing as a funeral season - though funerals take place all year round, the best time to experience them is from July through to the end of August. The funeral season occurs because Torajan people preserve their dead until the time is considered proper, sometimes for up to several years. Funerals are generally held in the holiday periods when the sizeable Torajan diaspora can return to Tana Toraja (the Torajan homeland).
Other famous festivals in Indonesia include Nyepi, the day of silence, held in Bali in March (usually), and the 'mock war' of the Baliem Valley Festival in Papua in August. In February or March, two other exciting events occur; Pasola, the jousting festival in Sumba, and the Bau Nyale Fishing Festival in Lombok. We are big fans of unique experiences, and we think it is worthwhile considering travelling out of season if it means you will experience one of these extraordinary one-off spectacles.
Meet the Indonesia experts
As Featured In