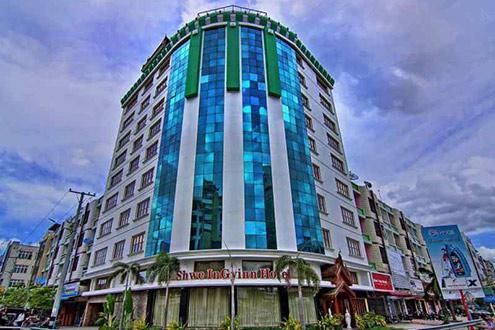 Shwe Ingyinn hotel is located right in the heart of downtown Mandalay opposite the railway station. This is a functional area from which to explore the bustling city and where some of the better value hotels are located.
The hotel itself is 9 stories high and would be best described as Asian inspired with lots of tinted glass and wooden detail. With only 59 rooms it is relatively small so doesn't feel like a big imposing international hotel. The service level could perhaps do with some work, but you'll always get a smile and they will accommodate your needs where possible.
The rooms itself are of a simple design with wooden furniture, a TV, kettle and small fridge, there is nothing in particular to rave about but Mandalay has so much culture that you'll be out and about exploring during most of your stay anyway.
The hotel's main feature is its 9th floor roof top restaurant which is a great place to enjoy a local breakfast. You can even walk up steps right onto the roof, whilst its far from a glamorous roof terrace it's a fab place to get a spectacular 360 degree view of the whole area.
This hotel provides a good value base for the night and is best for those who are not overly concerned about the finer details of a hotel. Stay here for a straightforward simple room in a good location.
Last visited by Matt Brazier, December 2013