As with much of Southeast Asia, the best time to visit Myanmar (Burma) is generally between November to April, when rainfall is low and the temperature is warm. March and April can start to get very hot, especially in the dry central regions of Bagan and Mandalay, with humidity peaking before the rains break in May.
Since Myanmar covers such a large landmass, the country has various climates in different areas, so we've broken down the weather in the main tourist regions below. However, if you'd like personalised advice based on your luxury Myanmar holiday, you're welcome to contact one of our specialists.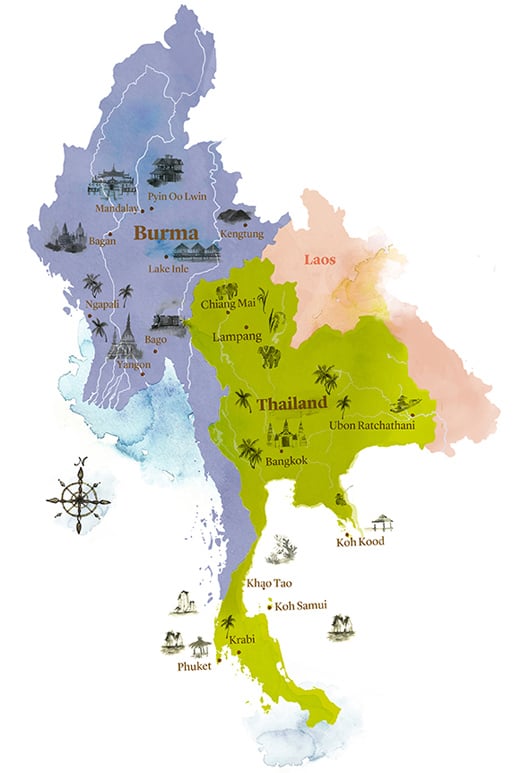 When to visit Myanmar
(Quick Summary)
Best Time
October - March
---
Monsoon Season
May - September
---
Beach Season
November - March (Ngapali)
---
Wildlife
November - February (Moneyingyi Wetlands)
---
Weather in Myanmar Throughout the Year
January - April
Expect excellent weather conditions in Myanmar at this time, as it is hot and dry across the whole country. The chance of rain is very low, even in the highlands, where temperatures are the warmest they will be all year. The cities will be dry and not too hot, and the beaches sun-drenched with calm waters. By April, the weather will be very hot.
May - September
The wet season comes to Myanmar mid-May through to September; however, there can be some pockets of incredible weather. Temperatures will hover around the mid 20°Cs and even low 30°Cs and humidity will be high in places. The central lowlands around Mandalay are still the warmest and driest part of the country, yet many of the beach resorts will be closed for the wet season.
October - December
Sunny, dry weather returns to all of Myanmar in October, and over the next few months, the beaches will re-open, offering fantastic hot temperatures. Expect plenty of clear blue skies, comfortable temperatures and lovely green landscapes just after the wet season.
DOWNLOAD YOUR FREE WEATHER GUIDE
Enter your details for:
Monthly averages for temperature and rainfall

When to visit for any festivals

An in-depth look at the weather month-by-month
When is the Monsoon Season in Myanmar?
The rainy season in Myanmar runs from May to October. However, it is often referred to as the 'green season' by locals, as the lands are finally relieved from the heat and become lush and tropical once again, making it a really beautiful time to visit. You'll also find far fewer tourists during this time, so for those who prefer to travel without the crowds, it could be well worth considering.
Weather in Yangon
Home to the magnificent Shwedagon Pagoda, Yangon is where most trips to Myanmar will either start or end. From November to February the temperatures are very comfortable, averaging at about 30 degrees. March and April then get much hotter, rising to around 35 degrees. Yangon then sees a lot of rainfall between May to October (particularly earlier on in this period) but this rarely lasts all day and can be a welcome break from the daytime heat. Evenings can become very cool during this time if there are showers, so it's worth bringing an extra layer in case you feel the chill.
Weather In and Around Mandalay
The Mandalay region (including Bagan and the Irrawaddy River) is one of the driest areas in Myanmar, with temperatures reaching over 40 degrees between March to May. The dusty plains of ancient Bagan reflect the minimal rainfall here, except for the occasional heavy downpour to help clear the air. This makes sunrise temple viewings a year-round treat, although exploring during the day can get tiring and should be combined with plenty of dips back in the hotel pool.
Weather In and Around Inle Lake
The Shan State where Inle Lake is situated follows a similar pattern to Yangon in terms of rainfall, although downpours are less frequent here. The temperature in this region is generally much cooler in comparison to the rest of the country and can feel particularly chilly from December to February, so it is worth packing an extra layer. By March the region is lovely and warm once again. The nearby highlands, including the hill station of Kalaw, have a much cooler temperature all year round, with average temperatures between 15-20 degrees, making it perfect conditions for trekking through the beautiful countryside.
When to go to the beach in Myanmar
The main beach in Myanmar is Ngapali, located on the West coast, although there are also a couple of islands within the Mergui Archipelago in the far south of the country. The majority of beach hotels are open from October to May and close during the rainy season, so those travelling during the summer months should consider nearby Thailand or Malaysia for some beach time.
Festival Guide
Many festivals take place throughout the year in Myanmar, and if you can plan your trips around one, then they are great fun to be a part of! For instance, the Phaung Daw Oo Pagoda Festival in October is a fantastic spectacle taking place on Inle Lake, celebrating five golden buddha statues which are paraded around the lake. In April, the Thingyan Water Festival marks the Myanmar New Year and helps to relieve the soaring temperatures due to the nationwide water fight that takes place (similar to the Songkran festival in Thailand).
Generally, these festivals last a day or two and should not affect your travels at all. However, your travel consultant can discuss this in more detail with you, either helping you to coincide your trip with a particular festival or advising on any disruptions it could cause.
Meet the Myanmar experts
Nick
Our Head of Travel, Nick loves exploring life in Asia and over the past decade he has spent a great deal of time in Sri Lanka, Cambodia, Thailand, Myanmar and Laos. To add to his impressive repertoire, Nick also pioneered our Indonesia holidays and having done exhaustive tours to Bali, Java, Flores and Indonesian Borneo he is passionate about extolling the virtues of this often overlooked country.
... Read more
Call Nick
Holly
Holly's first job in travel was in a marketing role. However, it didn't take her long to decide to exchange inspecting photographs of amazing destinations for being in them herself.
... Read more
Call Holly
As Featured In