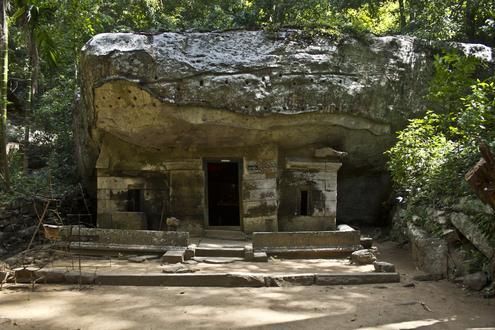 Situated in an isolated rural spot just north of Kurunegala, Arankele houses the ruins of an ancient monastery, once inhabited by a sect of reclusive monks.
The fascinating 6th Century ruins of the Buddhist forest hermitage is spread throughout a forested hillside with huge hardwood trees. Various ruins to be seen include the impressive ancient hermitage hospital with its moats, stone walls, stone herbal baths, herb grinders, sick rooms and meditation halls, and a superior sanitary system.
The monastery complex was gifted to the monks by King Dhatunsena over 1,800 years ago, and around 1,200 monks have lived here over the years. In addition to the various artefacts and ruins, there is also a 1,800m long path, winding its way around the mountain and enjoying some incredible views. Along the path through the 65 acre site, lies a cluster of small rock caves once used for shelter and meditation.
The complex was rediscovered as recently as 1922, with excavations beginning in 1942. Ruins are still being unearthed throughout the sight, so there is always something new (or is it old!?) popping up. One really distinct aspect to the ruins here is the amount of craftsmanship that went into its production, with huge slabs of rock carved out of the bedrock to produce floors, walls and pedestals.
Arankele is a wonderfully secret place, and you are likely to be the only visitor to it all week. This, along with the stunning ancient woodland and resident troop of the endemic toque macaques, makes it a magical place to stop for a wander en route from Colombo to the Cultural Triangle. We have even got special permission from the Archaeology Department for our guests to have picnics here, just make sure you leave it as you found it!
You can include this experience as part of an Experience Travel Group holiday designed exclusively with you.
Map centered on Arankelle Forest Monastery. Zoom out to view other hotels (H) and experiences (E) in the area.