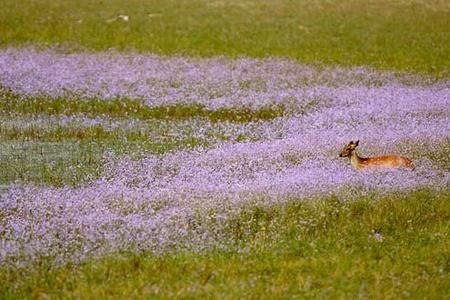 Lying on the northwest coast, 30km due west of Sri Lanka's ancient city of Anuradhapura, and spanning the border between North Western Province and North Central Province, Wilpattu is among the oldest and most important protected areas in the country.
It is also the largest national park in Sri Lanka, with an area of approximately 131,500 hectares. The park was declared as a sanctuary in 1905 and upgraded to national park status on 25 February 1938. The park was closed for some parts of the recently ended civil unrest experienced in the region but it has now re-opened and is safe for visits.
The park is made up of dry lowland forest and numerous 'villus' – flat basin-like fault depressions on the earth's crust which collect rain water – and it is an excellent location for wildlife spotting and scenery alike, in both the dry and monsoonal seasons. The western section of the park is deeply forested with bright copper red loamy soils and the sounds of cicadas fill the air as you drive through. In these areas - despite the thicker vegetation - wildlife sightings are still possible, with land monitors and birds galore.
Aside from Wilpattu's rugged beauty, there is thought to be a 50% chance of sighting leopard (Panthera pardus kotiya) here, and in addition elephant (Elephas maximus), sloth bear (Melursus ursinus), water buffalo (Bubalus bubalis), and spotted deer (Axis axis ceylonensis) can also be found. Along Wilpattu's coastline with both Dutch and Portuguese Bays, the docile dugong (Dugong dugong) is known to occur.
The park is a major sight of interest for birders, with the villus supporting a variety of resident and migratory waterfowl including large breeding populations of painted stork (Mysteria leucocephala) and open billed stork (Anastomus oscitans) among others. The villus are not the only bird-supporting habitat within the park either, and you might spot the greater racquet-tailed drongo (Dicruruc paradiseus), Asian paradise flycatcher (Terpsiphone paradise), crimson-breasted barbet (Megalaima haemacephala), Malabar pied hornbill (Anthracoceros coronatus) and fish owl (Ketupa zeylonensis) plus many many more. Of course be ready to see one or twelve of Sri Lanka's national bird: the Sri Lankan jungle fowl (Gallus lafayetti).
The park takes some getting to, and the accommodation options in the region are somewhat more limited than the country's second largest park, Yala, however its isolation and lack of general touristic infrastructure is what makes it so special. You are unlikely to see many other jeeps while you are there, and almost every sighting will be just for you – much better than squashing in with 20 other vehicles crowding around one poor leopard! You will need to head into the park for around 10km through thick dry lowland forest before you hit the more open areas and villus, however wildlife sightings along this road are still possible so it pays to keep your eyes peeled at all times!
To make the most of your time in Wilpattu, head to Leopard Trails for luxury camping just outside the park's border or, if you are more tied to your home comforts, Kulu @ Ath Sevana offers great service and comfort in a simple lodge, just 20 minutes form the park gates. For those on a tighter budget, Back of Beyond Water's Edge is an excellent option.
The best time to visit Wilpattu is from May to early September during which time the extensive drought draws wildlife out to the open areas surrounding the villus.
Download your free Sri Lanka travel guide