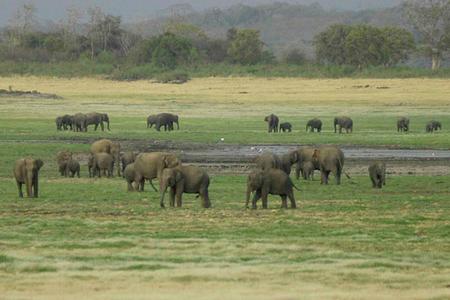 Minneriya Tank was created by King Parakarambahu at the height of Polonnaruwa's glory as the capital of Sri Lanka (third century AD). The national park based largely around the huge tank (reservoir) was created rather more recently but serves as an important gathering place for Sri Lanka's large population of elephants.
It is a great place for elephant spotting all year round – though as the dry season makes water scarce between June and September, more and more elephants gather on the shores of Minneriya Tank. Indeed by late August and September, the awe inspiring site of 150-200 elephants gathered together can often be seen, in a phenomenon known as 'The Gathering'. It is the largest concentration and gathering of Asian elephants that can be seen anywhere in the world. Watching baby elephants playing with each other, bull elephants tussling for dominance and the great matriarchs surveying the scene is not a sight you are likely to forget in a hurry.
Aside from the elephant, Minneriya is also home to some 23 other species of mammals: some, like the Deer and Sambur you will see, some like the Leopard and the Sloth Bear will probably prove elusive. The arid dry zone is a paradise for many species of Lizard and you will see them here in all their technical colour brilliance if you look carefully enough, as well as snakes like the Indian Python and the Mugger Crocodile. Above all, of course, are Sri Lanka's wonderfully varied bird population. Among the 150 or so species, particular favourites of ours you may see in Minneriya include the beautiful painted stork, the Pelican and various imposing eagle species, as well as the endemics: the Sri Lankan Jungle Fowl, the Sri Lanka Hanging Parrot, and the Sri Lanka Gray Hornbill.
Nearby Kandulla National Park, opened in 2002 to provide an elephant corridor through to Minneriya, offers a similar experience and is particularly beautiful in the early morning sun. It has the advantage too, of having less visitors, so you will not share the experience with quite as many jeeps as you will in Minneriya.
Minneriya is positioned in the centre of the 'cultural triangle' at a place called Habarana. Cinnamon Lodge is an attractive resort style hotel in Habarana itself. Further afield, the incomparable The Kandalama is a great and unique hotel, while Wildgrass is great for families.
You can even float over Minneriya and the beautiful surrounding countryside in a Hot Air Balloon!
Download your free Sri Lanka travel guide