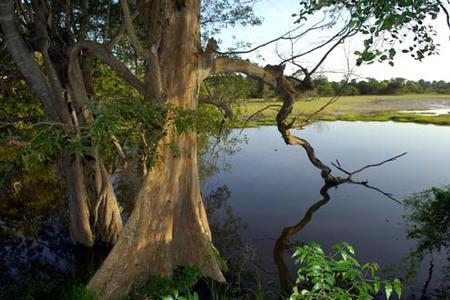 The Puttalam district, an area north-west of Colombo, is a secret treasure trove – long left untouched by mass tourism.
Thinly populated by a fascinating mixture of cultures and religions, this northwestern province is beautiful and wild, with looming rocks rising sharply from the earth and dreamy wewas (reservoirs) with their circling storks and eagles, flashing kingfishers and their beautiful water lilies.
The area has several nature reserves. The two most spectacular being the massive Wilpattu National Park and the Puttalam Lagoon. Wilpattu is a vast park which re-opened as recently as 2010. Unique scenery and flora combined with a very healthy number of leopards make this park a fantastic and far less touristy alternative to Yala at the right time of year. To really experience this off-the-beaten-track park an overnight stay is wonderful – Kulu Safaris offer a superb safari-style camping option.
The Chilaw area is a fine birdwatching area as it is on the cusp between Sri Lanka's dry and wet zone. The Anawilundawa reserve is a particularly good and remote spot. Ask your consultant to work this into your itinerary and simply wander at will – you'll be glad for the supply of water in all of Experience Travel's vehicles as there are no shops around here!
Puttalam itself is a melting pot of Moorish, Tamil, Christian and Sinhala cultures - with an interesting, frontier town atmosphere and some good food. As you head north from here the land becomes drier and sparser past the lagoon towards Kalpitiya.
The Kalpitiya Peninsula is the latest region to experience growth. This coastal peninsula is now seeing many beach hotels spring up and more development is planned for the remote islands which separate Sri Lanka and India, from international heavyweights as well as independent projects. Kitesurfing and diving possible here in season, making it a great option for water sports enthusiasts. Bar Reef, the first property on its shores, is famous for its rustic accommodation and superb dolphin watching possibilities between December and April. Dolphin Beach, Uddeki and Palagama are all excellent - talk to us about which one would suit you as they have very different strengths (and weaknesses).
Further inland, The Mudhouse is a unique experiment in simple village-style living and excellent local excursions and activities. It is an eco-retreat near the mysterious and beautiful Paramakanda Rock Temple, far away from the beaten track. Bicycles come with the room and exploring this rural area is a joy.
The area resounds with history and legend but two of the most interesting sites are the former and short-lived capital of Pandus Nuwara (site of a local Rapunzel-like legend about a princess with long hair) and the rock citadel of Yapahuwa.
Take the opportunity to see a part of the country that most people miss. You may wish to book our Undiscovered Sri Lanka Tour or ask one of our consultants to tailor-make a holiday to suit.
Download your free Sri Lanka travel guide
Your information is 100% safe with us and will never be shared with any third parties.