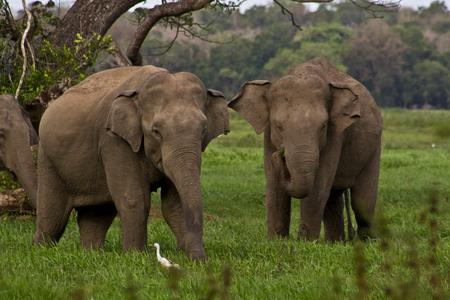 Lahugala National Park is Sri Lanka's smallest, but also one of it's most valuable conservation areas for elephants and endemic birds.
Lying in the basin of the Heda Oya, 16km inland from Pottuvil on the east coast, Lahugala National Park has a total area of 1,554 hectares, encompassing three tanks (ancient reservoirs), Lahugala, Kitulana and Sengamuwa. These tanks are largely silted up and support an abundance of beru grass – the Asian elephant's favourite.
The park was declared as a sanctuary in 1966 and upgraded to a national park on the 31st October 1980. The park was closed to visitors during the civil war due to security issues but it is now re-opened to tourism.
Nearby to Lahugala, is the historic sight of Magulmahavihara, built for the King Kavantissa's marriage to Viharamaha Devi. A visit to this monument is possible to combine with a trip to Lahugala National Park.
As the park lies in the dry zone, the vegetation surrounding the tanks is dry mixed evergreen forest with scrubs. Beru (Sacciopelsis interrupta), a tall reedy grass, covers the tanks. The park is traditionally used as a feeding ground by elephants (Elephas maximus), with herds of up to 150 known to be observed between June and August. Other mammals include endemic toque macaques (Macaca sinica), grey langur (Semnopothicus entellus), sloth bear (Melursus ursinus), golden jackal (Canis aureus), Indian muntjac (Muntiacus muntjak) and spotted deer (Axis axis ceylonensis) among others. The birdlife is diverse and includes a variety of waterfowl, raptors and the usual dry zone forest birds.
Lahugala National Park can be visited for a day trip from your hotel in Ella, such as 98 Acres, or from your hotel in Arugam Bay.
Download your free Sri Lanka travel guide