Sri Lanka is a tropical island that sees sunshine and warm temperatures throughout much of the year. However, there is confusion about the best time to visit as there are two monsoons that affect different parts of the island. The weather in Sri Lanka does not run like clockwork: you could wake up to clear blue skies in the rainy season, and equally encounter a thunderstorm in the dry season. Embracing the elements is part of the fun, but with careful planning, we can maximise your chances of great weather conditions.
Ultimately, the best time to go to Sri Lanka depends on where you'd like to stay and what you'd like to do. We know the country inside out and will put in as much adventure, luxury or comfort as you wish. Whether you're interested in cultural festivals, exotic wildlife or just want some reliable beach weather, our experts can help you work out the best time for your luxury holiday to Sri Lanka.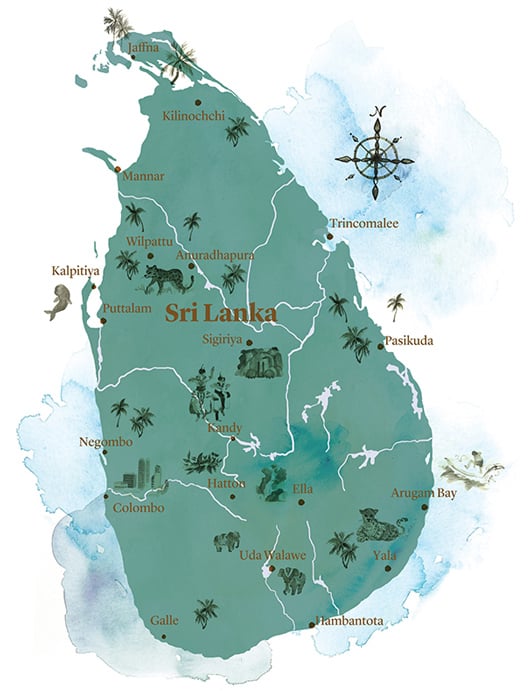 When to visit Sri Lanka
(Quick Summary)
Best Time
Jan - Apr (Entire Country)
Mid-July - Sep (Entire Country)
Feb - Sep (North and East)
---
Monsoon Season
May - Jul (South-West Monsoon)
Oct - Jan (North-East Monsoon)
---
Beach Season
Jan - Apr (South)
May - Sep (East)
Mid-July to Sep (South)
---
Wildlife
Dec - Apr (Bundala National Park - birds)
(South coast - whales)
Nov - Apr (Kalpitya - dolphins)
Jul - Sep (Minneriya / Kaudulla - Elephants)
Jan - Oct (Yala/Wilpattu - leopards)
---
Weather in Sri Lanka Throughout the Year
January - March
A fantastic time to travel across the whole country, Sri Lanka is generally basking in sunshine and relatively dry all over throughout these months. Temperatures will be lovely and warm, although a touch cooler up in the Hill Country. Beaches on the south and west coasts are dry, hot and sunny.
April
Sri Lanka's weather in April is usually at its hottest and driest - especially in the central and Cultural Triangle regions with temperatures at least in the mid-30°Cs. It's a great month to head to the beach, with clear skies and long, sunny days. Make sure to avoid the hottest hours of the day (11am-3pm) when sightseeing during April.
May - June
The south-west monsoon blows through May and June, but as the name suggests it only affects the south-west quarter of the country such as Colombo and Galle. It is also the more gentle of the two monsoons that Sri Lanka experiences, with mainly short and sharp showers that tend to pass quite quickly.
July - September
This is what is known as "inter-monsoon" season, meaning that spare the odd shower, the weather is great at this time of year. Temperatures remain high across the country at around 29°C average and the beaches are hot and dry. A brilliant option for families looking for a tropical summer holiday and all in all, a great period to travel.
October - November
The north-east monsoon blows in October and November, and it is the heavier of the two monsoons that Sri Lanka experiences. Whilst the name may lend itself to the north-east only, this monsoon does in fact affect the whole country. This monsoon can be unpredictable – it can be stronger, lighter or more sporadic than past years, and sometimes it never comes at all!
December
Weather in Sri Lanka in December is typically hot and dry across the island, making it a lovely choice for a Christmas or winter break. It is worth noting that in recent years, there have been instances of monsoon rains lasting into December, but these usually calm by the end of the month. The plus side is that the seasonal rains help restore the lush green landscapes, making holidaying soon afterwards an exceptionally beautiful time to enjoy the rural regions.
DOWNLOAD YOUR FREE TRAVEL GUIDE
Download your Sri Lanka travel guide for:
Expert advice on where and when to travel
Top places to visit, including the main sights with a twist and hidden off-the-beaten path experiences
Best beaches and recommended boutique hotels
Our guide will be followed by a handful of emails full of travel inspiration. Curious to learn more? Give us a call on 020 3811 2247. We love talking travel
Monsoon seasons in Sri Lanka
Sri Lanka's two monsoon seasons can often leave travellers confused as to the best time to visit. Essentially, the south-western monsoon runs between May and July. This tends to be the gentler of the two monsoons and, as the name suggests, affects only the southwest of the country.
By contrast, the northeast monsoon runs between October and November. These monsoon winds are slightly more unpredictable; they bring rains heavily some years, barely at all in others, and can affect all parts of the country (not only the northern and eastern regions).
It is important to remember that rains can occur at any time in Sri Lanka. But, unless you're travelling in the height of the monsoon, this will rarely be so dramatic to stand that it stands in the way of a brilliant holiday. And, since the monsoons affect different parts of the island at different times, you can always find somewhere in Sri Lanka with lovely weather.
Beach & Wildlife Season in Sri Lanka

Sri Lanka is fringed on all sides with a beautiful coastline, and you can find brilliant beach conditions in different places throughout the year. Overall, the best weather for beaches in Sri Lanka is between December and April, making it an ideal 'winter sun' destination. This is when most of the country has hot weather and clear skies, and the seas off the western and southern coastlines are peaceful and calm. For those looking to travel over the UK summer, you can experience lovely weather (and calm seas) on Sri Lanka's East Coast in spots like Trincomalee, Pasikudah and Arugam Bay.

From Wilpattu in the northwest to Udawalawe in the south, Sri Lanka is blanketed in national parks, so there will always be a place for wildlife lovers to get their fix. For the best chance of spotting leopards, Yala National Park in the southeast is at its best from December - March. The world's largest gathering of Asian elephants occurs in Minneriya National Park from August to September.

Key Dates and Festivals

Sri Lanka's annual calendar is brimming with exciting events that you may wish to plan your holiday around. Sinhala and Tamil New year, for example, comes in April and brings with it vibrant festivities. In July or August, depending on the year, you can witness Kandy Esala Perahera, one of Sri Lanka's oldest and most extravagant festivals. For sports fans, Experience Travel Group also arrange tours around events like the England Cricket Tour of Sri Lanka, where you can enjoy the game as part of a bespoke holiday (cast the usual sports tour stereotypes from your mind!).
National bank holidays known as Poya days also occur every month in Sri Lanka. These are Buddhist celebrations that do not usually disrupt travel, but travellers should note that certain shops, restaurants and experiences will close on these days and alcohol is prohibited (though, if you are keen for a drink, you can usually purchase this the day before). Your travel consultant will always let you know if your holiday falls on a Poya day in Sri Lanka.
Climate and geography of Sri Lanka
The climate in Sri Lanka is typical of tropical countries with year-round hot temperatures moderated by oceanic winds. There are three distinct climate regions within this relatively small island in the Indian ocean: the so-called 'dry zone' which is the region to the northeast and south-west, characterised by both dry and tropical periods; the central highlands with a cooler tropical monsoon climate and the 'wet zone' - the southwestern quarter with a tropical wet climate. The climate is influenced by the direction of the monsoon winds and the shelter provided by the central highlands.
Meet the Sri Lanka experts
As Featured In