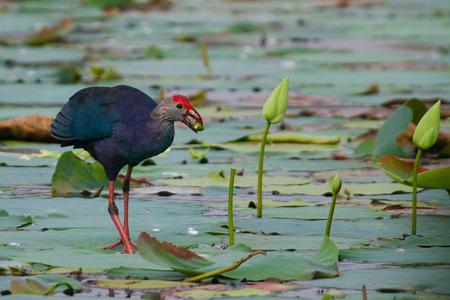 Declared a national park on the 2nd September 1986, having been previously designated a sanctuary in 1966, Somawathiya affords protection to a unique habitat of riverine villus and flood plains, as well as the largest concentration of elephants in the country, along with Flood Plains National Park.
The park is currently not open to the public.
Somawathiya National Park spans East and North Provinces and has an area of 37,762 hectares. The water filled basins in the central flood plains are characterized by the abundance and predominance of water-tolerant grasses and aquatic plants.
The ecological importance of Somawathiya is due mainly to the abundance of elephants (Elephas maximus), which is estimated to be around 400 within the park and its immediate environs, and also due to its abundant bird life. Noteworthy mammals include the golden jackal (Canid aureus), fishing cat (Prionailurus viverrinus), rusty-spotted cat (Felis rubiginosa), leopard (Panthera pardus kotiya), wild boar (Sus scrofa), Sambar (Cervus unicolor), water buffalo (Bubalus bubalis), porcupine (Hystrix indica) and black-naped hare (Lepus nigricollis).
Typically, the marshes of the flood plains have an interesting and abundant avifauna. Around 75 migrant species are known to winter in the marshes of Somawathiya, including species such as garganey (Anus querquedula), marsh sandpiper (Tringa stagnatilis), pintail snipe (Gallinago stenura) and whiskered tern (Chlidonios hybridus). Resident birds include the painted stork (Mycteria leucocephala) and purple coot (Porphyrio porphyrio) among others.
Download your free Sri Lanka travel guide