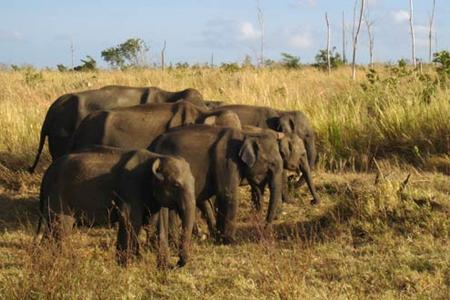 Renowned for its wealth of faunal species and outstanding scenery, Udawalawe is located in both the Sabaragamuwa and Uva Provinces just south of the islands iconic tea-clad hills.
Encompassing the Udawalawe Reservoir along with much of its catchment area, the park covers just less than 31,000 hectares. The area was declared the 5th National Park of Sri Lanka on the 30th June 1972. The dominant ecosystem of the park is forest scattered with grasslands and thorny shrubs though part of the park is reclaimed tea estate! Tree species likely to be observed are Satin (Chloroxylon swietenia) and Ebony (Diospyros ebenum) among others.
On the wildlife side, the large herds of Asian elephants (Elephas maximus) are the main drawcards, but populations of leopard (Panthera pardus kotiya), spotted deer (Axis axis ceylonensis), sambar (Cervus unicolor), barking deer (Muntiacus muntjak), wild boar (Sus scrofa) and water buffalo (Bubalus bubalis) are gradually increasing. Other mammals found within the park include the endemic toque macaque (Macaca sinica), the common langur (Presbytis entellus), golden jackal (Canis aureus), sloth bear (Melursus ursinus) and toddy cat (Paradoxurus hermaphroditis).
The avifauna in the park is diverse, with birds of prey throughout and a wealth of water bird species found on the Uda Wallawe reservoir, including the Indian cormorant (Phalacrocorax fusciollis) and osprey (Pandion haliaetus).
The park is an excellent spot to visit all year round, with a resident elephant population among other wildlife meaning that you will rarely be disappointed in terms of wildlife viewings. There is also an excellent elephant orphan transit camp attached to the park, where four times a day you can observe the young elephants being bottle fed. This is a great initiative funded by the Born Free Foundation and involves elephants that have been orphaned or injured before 5 years of age. Once the orphans reach 5 years old, they are released back into the park to continue life in the wild, where they belong.
To visit Udawalawe National Park the best option is to do a two night camping safari with Leopard Safaris; allowing you to get a real in-depth view into the park and its inhabitants. If time and money is more restricted, check out Kalu's Hideaway, a simple but perfectly formed boutique hotel located just down the road from the main gates.
Download your free Sri Lanka travel guide