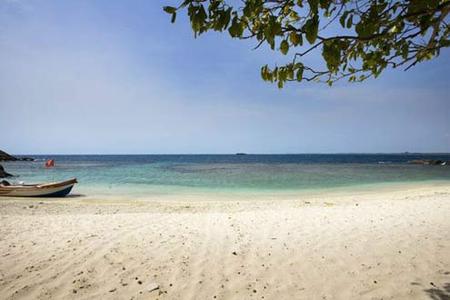 The East Coast of Sri Lanka is home to some of the country's most breathtaking beaches. Ethnically and religiously diverse, the area is back on traveller's itineraries following decades of being classed as "off limits" due to the former conflict.
The advent of peace has ushered in a new period of prosperity and development and made some of the wondrous sights of the Eastern Province accessible once again.
The main holiday destinations in the east are Trincomalee to the north, and Arugum Bay to the south. The Nilaveli Beach Hotel is an institution in Sri Lanka.
The eastern coastline has miles of spectacular beaches that will see much development. Batticaloa is also a fascinating town and gives a purpose to any coastal exploration. Passikuda is the most famous of the beaches and with its wide sandy bay, you can see why. Uga Bay is a great hotel. All these places have a season at the opposite time to that of the south and west coast beaches. The season here runs from June to September.
Arugum Bay is undoubtedly the best place to surf in the country. With world class surf here in season, Arugum Bay attracted dedicated surfers throughout the war years and is gaining popularity rapidly now among the international surfing community.'Kudakalliya Bungalow's is a beautiful base south of Arugum Bay with its own surf point, Elephant Rock. There are a number of other properties in the area that we can recommend from personal experience.
Trincomalee is a large town built around a harbour Nelson described as one of the finest in the world. The large potential for tourism in this areas has not yet been explored, but it is an interesting place to visit and the beaches to north, at Uppuveli and Nilaveli are spectacular. Further north, at Kuchchaveli is Jungle Beach, a beautiful boutique hotel. There are also some hot-springs in the area and some wonderful old temples. Elephants sometimes roam freely in the surrounding countryside which is beautiful and at times wild.
Inland there are the national parks of Maduru Oya and Gal Oya which are also starting to open up again, along with numerous sites of religious and cultural significance. The Gal Oya Lodge is a great place to stay in this area.
Please contact us for advice on staying in this area. Infrastructure does not yet compare to the rest of the country, although this adds a charm and sense of adventure to any trip to this region.
Holiday ideas including the East Coast of Sri Lanka
Download your free Sri Lanka travel guide
Your information is 100% safe with us and will never be shared with any third parties.