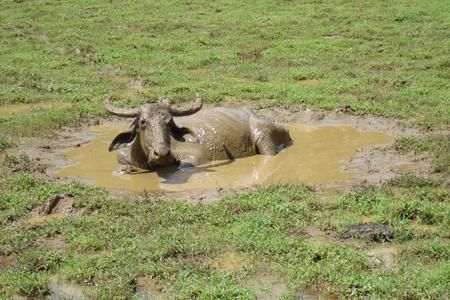 Designated a national park on the 9th November 1983, Maduru Oya National Park is designed to protect the immediate catchments of five reservoirs developed under the Accelerated Mahaweli Development Programme. Providing a refuge for a wide variety of wildlife, the park is best known for its herds of the Asian elephant (Elephas maximus).
Located in Ampara, Badulla and Polonnaruwa Provinces, the park lies to the central eastern side of the country and is best reached from Pollonnaruwa or Batticoloa on the east coast.
The most dominant physical feature of Maduru Oya National Parkis the 8km long range of rocky mountains found towards the south-west of the park. The characteristic red soil which covers the entirety of this 58,850 hectare area supports a variety of dry-zone vegetation, with the climax community of the area being tropical dry mixed evergreen forest. Weera (Drypetes sepiaria), buruta/satin (Chloroxylon swietenia) and palu (Manilkara hexandra) are among others characterising the region. Despite the existence of climax communities, a major part of the park has seen heavy exploitation for shifting cultivation in the past. This has resulted in areas of secondary vegetation and vast stretches of open plains dominated by grasses such as illuk (Imperata cylindrical) and guinea grass (Panicum maximum). A large plantation of teak (Tectona grandis) is included in the north eastern part of the park, despite not being a native species.
The park is particularly important for its rich wildlife, which includes a variety of endemic species. Mammals to be found within the park include, but are not limited to, Asian elephant (Elephas maximus), sloth bear (Melursus ursinus), leopard (Panthera pardus kotiya) and water buffalo (Bubalus bubalis). Slender loris (Loris tradigradus), toque macaque (Macaca sinica), grey langur (Semnopithicus entellus), golden jackal (Canis aureus) and fishing cat (Prionailurus viverrinus) are also present. As with many of Sri Lanka's water dominated parks, Maduru Oya enjoys a rich aquatic avifauna with painted stork (Mycteria leucocephala), white-bellied sea-eagle (Haliaeetus leucogaster) and grey pelican (Pelecanus philippensis) all present. Noteworthy forest-dwelling birds found here include the common tailor-bird (Orthotomus sutorious), shama (Copsychus malabaricus) and black hooded oriole (Oriolus xanthornus).
As with the rest of the country, Maduru Oya holds areas of ancient cultural significance, namely in the form of ruins at Henanigala, Kudawila, Gurukumbura, Uluketangoda, Werapokuna and at several others places where one can find ancient Buddhisy shrine, temples, dagobas, statues and hermitages from various eras in Sri Lanka's long history. Early Brahmin inscriptions, belived to be aging from the 1st to the 3rd Century BC have been discovered at Kandegamakanda. The park is also situated in an area previously occupied by the Veddhas. These aborigines, numbering less than 1000 people are believed to have descended from King Vijaya and Queen Kuweni, and they were present inSri Lanka long before the arrival of the Sinhalese in 543 BC.
Reached best from your hotel in Baticoloa, Pasikudah or Polonnaruwa, Maduru Oya is best visited for a full day trip. We recommend visiting from March to September, when the dry season brings the wildlife out of the bush and to the water points, allowing easy viewing.
Download your free Sri Lanka travel guide