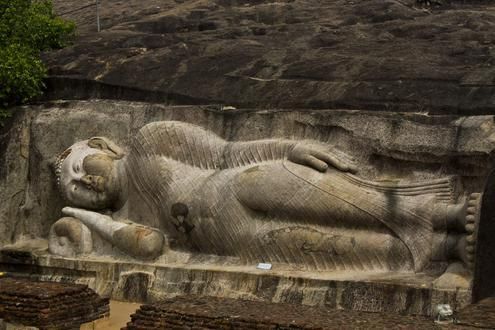 Set amongst an incredible sea of granite rock, the ancient monastic settlement of Tantirimalee goes right back to the pre-Christian era.
Located just east of the northern tip of Wilpattu National Park, en route to the far north and Mannar, the site is well known for its temple, the Tantirimalee Raja Maha Vihara. However it is the scenery that is the real draw card here, with granite kopjes littered throughout the region, the entire monastic complex was built on, and out of, the stone, with stupas, a reclining Buddha, a meditating Buddha and ancient reservoirs all showing the excellent craftsmanship of the people who resided here.
As you walk across the rock surface, with views reaching out across the countryside, you will eventually reach a lily-strewn tank (ancient reservoir), and if you continue on, heading down into the dry lowland dipterocarp forest, you will reach a set of caves with rock paintings dating back to the 3rd century BC. As even the guides suggest, one needs a 'creative' mind to see the meaning behind the drawings, which are apparently supposed to depict pre-historic life, with humans and animals all drawn – though to the untrained or 'uncreative' eye, they do tend more to depict noughts and crosses!
A visit to Tantirimalee is full of history and story, if you are so inclined, but even for those who are getting a little 'templed out', it is a great place to explore and relax. The feeling one gets when sitting on the warm rock and looking out over the surrounding landscape is just one of pure contentment. Highly recommended.
Map centered on Tantirimalee Monastery. Zoom out to view other hotels (H) and experiences (E) in the area.