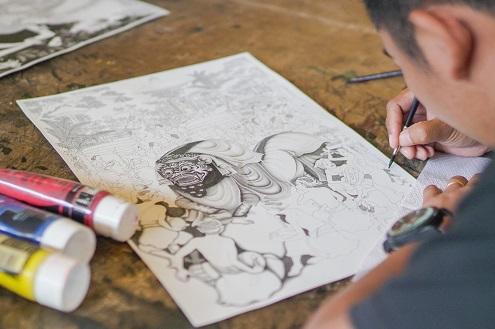 Connect with Balinese heritage on a deeper level with Mr. Dharma – a gifted artist and Hindu priest who is highly respected in this village for his commitment to preserving Balinese traditions and passing on the Keliki style to the younger generation.
Get ready to unleash your creativity as your host introduces you to the expressive painting style. This unique art form captures the daily life of villages using bold black and white shades. Starting with a simple pencil sketch, Mr. Dharma will patiently walk you through the process, sharing his skills and secrets along the way. Using natural palm tree ink, you'll add depth and shading to bring your artwork to life.
Mr. Dharma will personally frame your masterpiece, allowing you to take it home as a treasured keepsake. But before you bid adieu, he'll extend his warm hospitality by inviting you to his cozy home for a delicious Balinese lunch prepared by his family.
Map centered on Discover the Art of Keliki Painting. Zoom out to view other hotels (H) and experiences (E) in the area.