The island is as unusual in reality as it looks on a map and its peculiar geography has resulted in distinct, varied cultures and scenery throughout. Some 30 times the size of more well known Bali, Sulawesi is home to towering volcanoes, stunning coral reefs, lush green forests and an array of indigenous animals.
A visit to the north is a holiday in itself with nature reserves, superb marine life and highland trekking. In the southwest you can explore the remote tribes of Tana Toraja, famous for their elaborate funeral ceremonies. There are small clusters of idyllic coastal islands dotted all around the coast; Wakatobi off the southeast coast and Gangga Island are great for a beach stay to round off your holiday.
You could easily spend a couple of weeks getting to know Sulawesi in depth or you could explore for a week before hopping over to Java or Bali. If you're looking to do something really different, there are direct flights from Sulawesi to some of Indonesia's least-explored islands such as the neighbouring Spice Islands (Maluku) group and onwards to West Papua, Indonesia's breathtaking last frontier.
In this selection of itineraries, you'll find a range of ideas for exploring Sulawesi. Talk to our expert consultants and start to plan a bespoke holiday for you.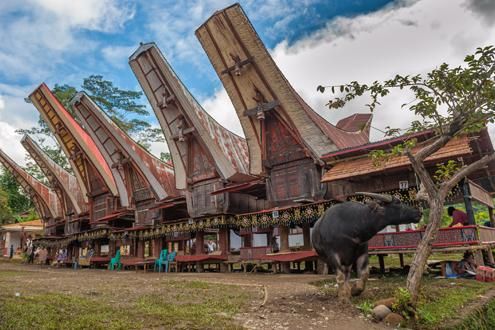 Contrasts of South Sulawesi And Bali
Think terrain, temples and tribes! Fascinating traditions, magnificent scenery: a journey of a lifetime.
Java in Depth with Sulawesi Adventure
Explore Java's scenery and history then head to Sulawesi to discover the remarkable culture and some of the best marine life in the world.