The steamy rainforests of Indonesian Borneo, or Kalimantan, some of the oldest in the world, provides a natural habitat for the majestic orangutan and other remarkable wildlife.
All the holiday ideas here feature the Indonesian part of Borneo known locally as Kalimantan. A short visit to Kalimantan works well with a holiday in the neighbouring island of Java as the diverse nature, and remarkable sights of the two destinations make an excellent contrast. For the truly intrepid, we can arrange a more in-depth adventure exploring Kalimantan only.
The most accessible of Kalimantan's national parks is Tanjung Puting, famous for orangutan conservation and centred around Camp Leakey research centre. Rimba Lodge in the forest offers land-based accommodation from which to explore the park or, as the park is dissected by the Sekonyer River, an alternative is to stay on a private, liveaboard "klotok" boat. Enjoying the view from the deck, you'll sail upstream, spotting the great ape itself as well as macaques, crocodiles, rare butterflies and birds.
An extraordinary privilege for a modern day traveller.
Contact us today to start your next adventure.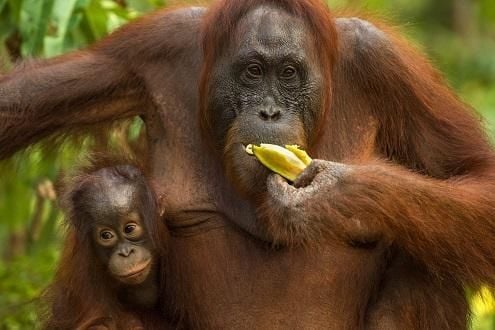 Borneo, Java and Bali Adventure
Explore the wildlife of Indonesian Borneo, the culture and history of Java and relax on Bali's beautiful beaches.