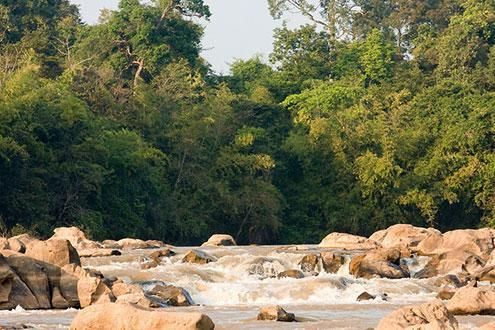 This two-night experience will give you a fantastic opportunity to see wildlife in Vietnam and also understand the conservation work going on at Dao Tien gibbon centre where there is an ongoing programme of release for captive and rescued gibbons.
Travel from Saigon and journey north to Nam Cat Tien national park, one of Vietnam's last surviving protected forested areas and home to some endangered species including pygmy slow loris, yellow-cheeked gibbons, sun bears and guar.
The journey itself takes around 5 hours from Saigon and brings you through several dusty towns teeming with motorbikes along the way. Drive past rubber and coffee plantations, and even spot fish farms on the river. Pass through Dong Nai, a town with a large Christian population and with a large number of Catholic churches - the churches are gigantic and are built in a strange modernist style in bright colours and with huge statues. Several Cao Dai temples can also be seen along the way as religion is popular in South Vietnam.
The trek to see the yellow-cheeked gibbons begins early the following morning, and your local guide will bring you from the Lodge into the jungle while it is still dark. The yellow-cheeked gibbons are an endangered species of primate native only to Cambodia and southern Vietnam and are notoriously shy of humans. Pass through the trees until you reach a clearing where you can listen out for the gibbon song. Gibbons only sing for around 12 minutes each day, and so your guide will help you to follow the gibbons and spot signs of their activity in the forest. The park is also home to several other species including macaques, langurs, civets and mouse deer and if these are not spotted scent markings or footprints can sometimes be found along the trails.
The park has rich plant and bird life too, and the thick jungle is full of tropical plant species and palm trees which make for an atmospheric walk through the forest.
Return to the Forest Floor Lodge about 8 am although this can vary depending on how active the gibbons are on any given day. In the afternoon you can take a boat across to Dao Tien island where the Endangered Asian Species Trust (EAST) carry out conservation work in rescuing captive, injured or pet gibbons and rehabilitate them for a possible return to the wild. You cannot get close to the enclosures as the gibbons should not become accustomed to human presence but can view them from the pathways in the centre.
Overnight at Forest Floor Lodge. The following morning there is an opportunity to repeat the early morning trek to sight the gibbons again and further explore the park's flora and fauna.
Please note that this tour is only operated in the dry season (October to May). It is not a trek for the faint-hearted and takes a relatively good level of physical fitness.
Map centered on 3 day/ 2 night gibbon trek at Nam Cat Tien. Zoom out to view other hotels (H) and experiences (E) in the area.