Working out the best time of year to visit Vietnam - based on its weather - can be a little confusing. Vietnam is a long, thin country with an extraordinarily vast coastline, meaning each region is affected by a completely different weather system. For example, the North, South and Central parts of the country all have their own climates and weather patterns that differ from one another throughout the year! Throw into the mix the various highlands, which naturally have cooler climates, along with the country's many beaches and coastal regions, and it can all start to get a little overwhelming!

The overall best time to visit Vietnam is between November and April when the entire country is dry and temperatures settle. When examining a country as long and thin as Vietnam, the weather can differ dramatically between the top and bottom of the nation. The good news is that there is nearly always good weather to be found somewhere in Vietnam, resulting in it being an almost year-round destination. The climate makes it the perfect choice for travellers in search of winter sun, summer holidays on the beach, trips full of active outdoor pursuits or amazing cultural adventures.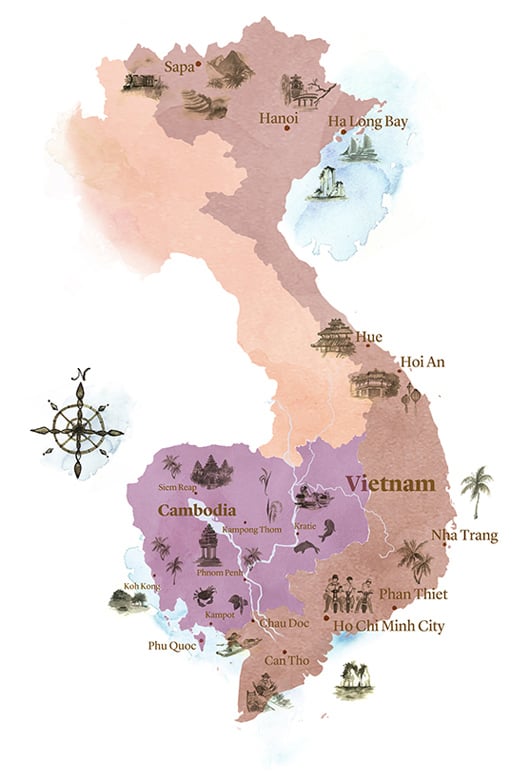 When to visit Vietnam
(Quick Summary)
Best Time
November - April
---
Monsoon Season
September - October
---
Beach Season
November - April (Southern Beaches)
May - August (Central Beaches)
---
Wildlife
December - May (Cat Tien National Park)
November - February (Cuc Phuong National Park)
---
Weather In Vietnam Throughout The Year
To help you plan your perfect Vietnam trip, below we've taken you through the best months to visit the different parts of the country in more detail. Read on to get an understanding of the weather in Vietnam, month by month.
January - March
A fantastic time to visit Vietnam - these months bring warm, dry weather across most of the country. Whilst the north of Vietnam and particularly the Northern Highlands may feel a little chilly at times, the south of the country and beaches will be hot and basking in sunshine. Central Vietnam will also be warm at this time, but not baking hot, so real beach lovers may prefer to visit Hoi An for culture and history but go elsewhere for the beach section of their trip.
April
April is a transitional time for Vietnam's weather as the country comes out of its peak season, but make no mistake, this is still a brilliant time to visit. The south may experience spots of rain, but for the most part, it is hot, sunny and dry. The central regions begin to enter their hot, dry season - which makes this an ideal destination for an Easter beach break.
May - August
The beaches of Central Vietnam - from Nha Trang all the way up to Hue - are hot, dry and sunny at this time of year, so a perfect option for summer holidays. The north is now firmly in its warm, wet summer season, with daily rain and humidity. The south will also be in its wet season, but this is typically characterised by short, sharp bursts of showers followed by clear skies for the rest of the day. Tourist numbers are lower, so it's an excellent time to travel - especially for those looking to escape the crowds.
September - October
These are some of the wettest months in Vietnam, meaning you will meet rain across the entire country. Conditions in the north start to improve, making trekking in Sapa possible again. Heavy rains and high winds start to hit the central highlands, making it unsuitable for the beach, and the south is still quite wet. However, towards the end of October the change is noticeable and the rain starts to cease.
November
This is when Vietnam's dry season returns fully to the whole country. The north will be clear and dry, although colder, and certainly so in Sapa where temperatures can feel a bit chilly at night. The central typhoons should have ended, meaning Hoi An and Hue are more settled, and the south of the country is coming back into its absolute best – clear skies, no rain and sun-drenched beaches.
December
Another great month for Vietnam; the whole country will be sunny and dry, with warmer temperatures found in the south, especially along the lovely coastal areas of Mui Ne, Phan Thiet and Phu Quoc Island. Trekking conditions in Sapa are good with clear skies and less fog, although the evenings can be a little chilly.
DOWNLOAD YOUR FREE COUNTRY GUIDE
Download your Vietnam travel guide for:
Expert advice on where and when to travel
Top places to visit, including the main sights with a twist and hidden off-the-beaten path experiences
Best beaches and recommended boutique hotels
Our guide will be followed by a handful of emails full of travel inspiration. Curious to learn more? Give us a call on 020 3811 2247. We love talking travel
Weather in Vietnam by region
Due to the length of the country, the weather in the mountainous North can be very different from that of the Central coastal regions and again from the cities and rivers in the South. Essentially, Vietnam has three weather systems - so it is, therefore, easiest to break the country down into three sections.

North Vietnam (Hanoi, Halong Bay)
Consisting of Vietnam's capital city Hanoi, the UNESCO protected Halong Bay, and the mountain towns of Mai Chau, Sapa and Ninh Binh, this is an area where clear skies are key for making the most of the stunning scenery. From November to April, the North is bright and sunny with minimal rainfall, creating the perfect conditions for trekking through the hilly rice terraces and cruising across Halong Bay. It can get chilly though, with temperatures dropping below 10 degrees in the mountainous areas, so those travelling between December and February should come prepared. From May to October the North warms up, becoming humid. In this wetter season you can expect heavy downpours. These shouldn't last all day, but can sometimes prevent junk boats in Halong Bay from setting sail.
Central Vietnam (Hoi An, Danang, Hue, Nha Trang)
Travelling further down the country sees much warmer year-round climates, rarely dropping below 20 degrees. The central towns of Hoi An, Danang and Nha Trang are close to miles of Vietnam's coastlines, making it the perfect place for a beach break. The central area experiences particularly hot and sunny weather from May-August, making it the ideal summer holiday destination. As the ancient town of Hue and the incredible Phong Nha caves are also in this region, it's the perfect destination for a family holiday.

With a warm climate throughout the year, Central Vietnam is still great to visit during the winter months too, but skies just might be a bit more grey. The rainy season here typically runs from September to December, though it is strongest in October and November when typhoons often blow through.
South Vietnam (Ho Chi Minh City, The Mekong Delta)
The climate in the South remains much more tropical across the year and can be split simply into two seasons. November to April is the dry season, whilst May to October is considered the rainy season, but the rains here are far lighter than in the North, often consisting of short sharp showers that pass quickly and leave sunshine in their path. This makes it possible (if humid) to visit Ho Chi Minh City and the Mekong Delta during the wet season, as well as the dry. The beaches of Mui Ne and Phu Quoc island are also located in this region, making them a great alternative to the central beaches for those looking to travel during the European winter.
VISITING DURING RAINY SEASONS
While it may sound off-putting for some looking for a summertime escape, the rainy season in Vietnam remains a great time for a south-Asian holiday. Rainfall during this time tends not to be too constant and usually consists of passing showers - during which you can duck under cover should you wish to avoid them. In fact, if you're after a slower-paced and less tourist-packed experience, the rainy season could just be your saving grace! There are a few things to bear in mind when booking during the wetter months.
Don't Rush - Make sure to leave spacious gaps in your travel itinerary, as you might just need a short break to dry out. If travelling with ETG, we'll make sure that everything is at the perfect pace to keep you moving but not exhausted!
Combine Vietnam - If you'd like a well-rounded experience, you can always consider another stop on your trip to Asia. Cambodia is a fantastic partner for Vietnam travellers, with plenty to discover.
Insurance or Cancellations - It's important to be flexible, as with particularly bad weather boat or car journeys could be delayed or postponed. Make sure you're not out of pocket if the worst should happen.
Vietnam Festival Guide
Whilst the weather is a prime consideration in deciding the best time of year to visit Vietnam, it's also worth taking into account various Vietnamese festivals and national holidays, as these will also affect travel throughout the country.

National holidays to consider include 'Reunification Day' on the 30th April, which celebrates the reunification of North Vietnam and South Vietnam at the end of the Vietnam War, 'International Workers Day' on the 1st May, and 'National Day' on the 2nd September. During these days, Vietnamese families like to enjoy local tourist spots, and museums, shops and restaurants can be closed, making these days not an ideal time to visit many destinations - especially those that are of mainly cultural interest.

The country's largest festival marks Lunar New Year celebrations and is called 'Tet' - otherwise known as 'Chinese New Year'. The dates for Tet change each year depending on the lunar calendar, but it usually falls between late January and early February and lasts around five days. Not only do most of the Vietnamese offices and shops shut during this period, but it also draws a large number of Chinese tourists, who use the break to travel outside of China. This means that many of the large hotels and beach resorts can be booked up quite far in advance and very full during this time.

While you might be tempted to visit during Tet to take part in the celebrations, it's important to be aware that the Vietnamese people take this time to retreat into their own homes and spend time with their families. During this period there are celebrations everyday, so everything tends to shut down. At ETG we prefer to plan holidays around this festival so that you spend some time with your own family at a beach resort or other relaxing destinations.

For help planning your luxury Vietnam holiday get in touch with the ETG team, we're only a phone call away!
As Featured In