Hue is one of Vietnam's cultural and academic centres and was formerly the capital of the country. It is a beautiful town located on the shores of the Perfume River with a distinct social and culinary identity.
The town has somehow avoided the changes that economic development has brought across the rest of Vietnam and retains a charming face of lakes, canals and lush vegetation. The main attraction is the ancient citadel which provides clues to the magnificent imperial city that once stood here. Easy going and laid back, Hue is certainly worth a few days of exploration and there are some excellent hotels to enable you to soak up the unique atmosphere and cuisine. The gorgeous art deco La Residence hotel is one of the most atmospheric hotels in Vietnam and the Pilgrimage Village, located just outside the town is a lovely relaxing base for a few days.
The town is particularly well known for its many speciality foods best sampled at local stalls and street kitchens. There is far too much to list here, but the banh khoai is a wonderfully tasty pancake and the platter of snacks usually sold at about four or five in the afternoon are truly mouthwatering. Hue is also famous for its noodles dishes and has its own delicately flavoured version of noodle and rice soups.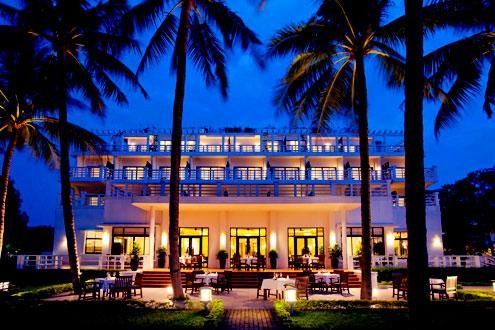 Azerai La Residence, Hue
Azerai La Residence is a luxury hotel evoking the opulence of a bygone era, with fabulous rooms with exquisite views.