The Tunnels of Cu Chi, Ho Chi Minh City

Vietnam, Ho Chi Minh City and The South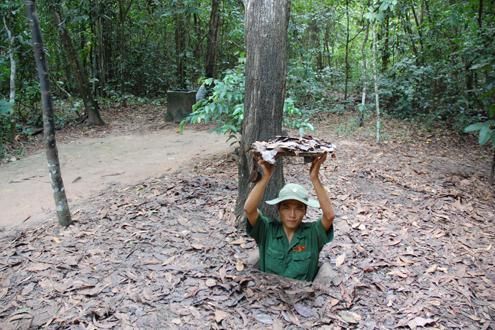 Info : The Tunnels of Cu Chi
This half day tour will take you outside of town to the infamous tunnels of Cu Chi where the Viet Cong fought guerrilla warfare in the 1960s and 70s.
Drive from Saigon for around 1 hour to Cu Chi where the remains of the vast network of Viet Cong underground tunnels can still be seen today. The tunnels stretch over 125 miles and took nearly 21 years to complete. The museum at the entrance is fascinating, and a pro-North Vietnamese propaganda video from 1967 is shown, offering a different perspective on a war which was so often projected to the world from a pro-American stance.
For those who are claustrophobic it is not necessary to actually enter the tunnels, but in the forested area that you walk through local guides will demonstrate a number of booby traps and ingenious tactics used by the Viet Cong throughout the war.
We recommend good walking shoes and sun protection for this tour and advise you may get a little dirty!
An essential tour for any visitors to Ho Chi Minh.
Please note that this tour can be combined with another to make a full day tour.
Go Top