In the Malaysian state of Sarawak, Bako National Park is covered by luscious green rainforest, teeming with curious forest creatures. The park spans 27 square kilometres of a rugged coastal peninsula on the South China Sea. Although it's less than 40 kilometres away from the town of Kuching, a trip to Bako National Park gives you the feeling of travelling to the ends of the earth.
This spectacular part of the world is easy to reach by boat or car. It's a memorable day trip or a great destination to savour over a few days. Experience Travel Group has explored the national park extensively and sourced the best hotels and transport. If you're keen to spend a few days exploring this truly beautiful and diverse part of the world, get in touch and let us help you plan an unforgettable Borneo trip.
Known for its biodiversity, Bako National Park is home to all sorts of flora and fauna: the infamous and endangered proboscis monkeys, bearded pigs, long-tailed macaques and stunning terrestrial orchids. Discover secluded bays, majestic coastal cliffs, babbling streams, grand waterfalls, and protected mangroves.
At just under an hour's drive from Borneo's Kuching International Airport, Bako National Park and the Santubong Peninsula offers an authentic jungle experience as soon as you're off your flight.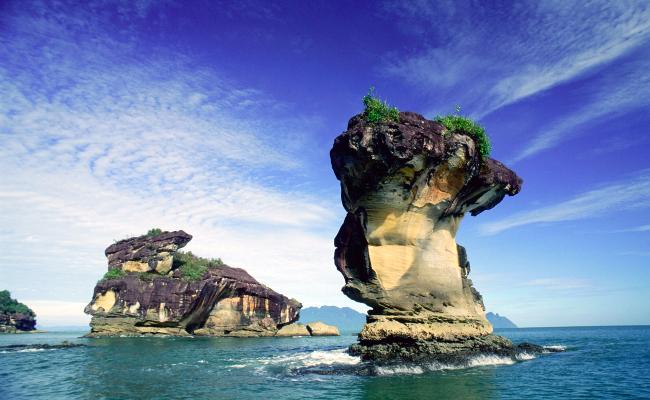 How to get to Bako National Park?
Bako National Park and the Santubong Peninsula are just under an hour's journey by car from Kuching International Airport. This means you can spot those famous big-nosed proboscis monkeys endemic to Borneo without wasting time.
You reach the park by an additional 20-minute boat ride from the road. This boat ride has helped protect the wildlife inside, and the journey offers stunning views of the landscape: Mount Santubong, various beaches and even mangroves.
The park boasts some of the most varied habitats in Borneo: from rainforest to sandy beach, to mangroves, to rocky outcrops. You can see any species found in Borneo in this park, except Orangutans – but there are plenty of opportunities to spot them later on your holiday. For example, just a 20-minute drive from Bako is the Semmengoh Orangutan Sanctuary, where you can see rehabilitated Orangutans before they are released back into the wild.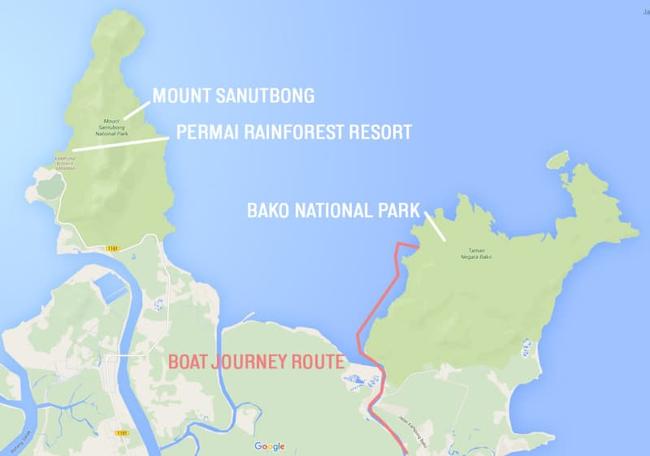 Things to do in the National Park
As the oldest and smallest national park in Borneo, Bako is often forgotten by travellers who are drawn to the more famous Mulu National Park, Kinabatangan and the Danum Valley. Similarly, the Santubong Peninsula, just west of the park itself also offers various outdoor activities, stunning beaches and wild swimming pools to boot, although not many travellers visit. This is a blessing and a curse; whilst the remote jungle atmosphere is helped by the fact there are few tourists, it also means people are missing out on a true hidden gem.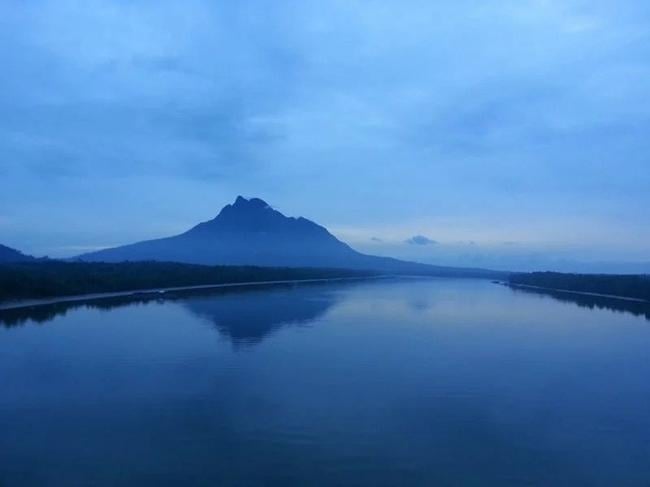 Wildlife Watching
Bako National Park is one of Borneo's best locations for wildlife. Amazing and unique animals, many of which are used to the presence of humans in the area's oldest national park, are commonly seen on nature trails and treks.

Creatures you will have never heard of before, let alone seen, litter Bako's forests, including the famous proboscis monkey, which is only found in Borneo. Expert guides can guide you to the best locations to spot proboscis monkeys in the early morning or late afternoon. Bearded pigs, lizards, and numerous other species of monkeys are also on regular display.

Alongside spectacular monkeys, lizards and more, Bako National Park is also an unbelievable local for avid birdwatchers. Over 190 species of bird live in Bako, some of which are incredibly rare and fantastic to spot in person.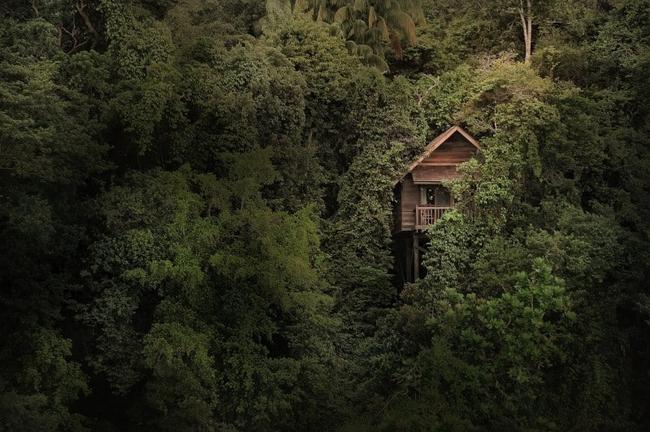 Trekking
For keen hikers or trail runners, Bako is a dream. There are plenty of hiking trails to enjoy, stunning views and opportunities to spot incredible animals. If you aren't a seasoned hiker, don't worry, as there is a wide range of distances and degrees of steepness to suit anyone, ranging from a simple half-hour walk to an overnight camping trek. Hikes are colour coded to show the difficulty and length, so you'll never end up where you don't want to be. Bako benefits from considerable variations in landscape, so in 1 hike, you could experience a wide breadth of environments and wildlife. There are even overnight hikes, led by knowledgeable guides, for a chance to see the park's more elusive nocturnal animals!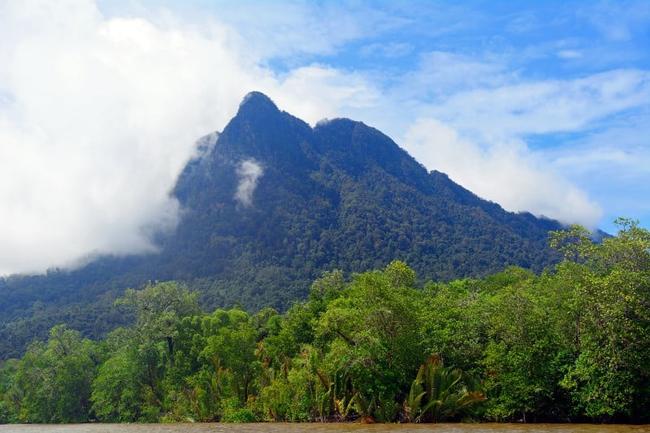 Bako Beaches
Another benefit of Bako National Park is its hidden beaches, of which there are many. They are secluded in secret bays and give you a truly private experience. A personal favourite is Teluk Pandan Kecil beach which has the feel of a desert island. The trail to this beach also gives brilliant views over Mount Santubong and the South China Sea. Animal lovers – watch out for the characterful bearded pigs that make the sandy shores their home. They're very relaxed and like moseying around the area for bites to eat.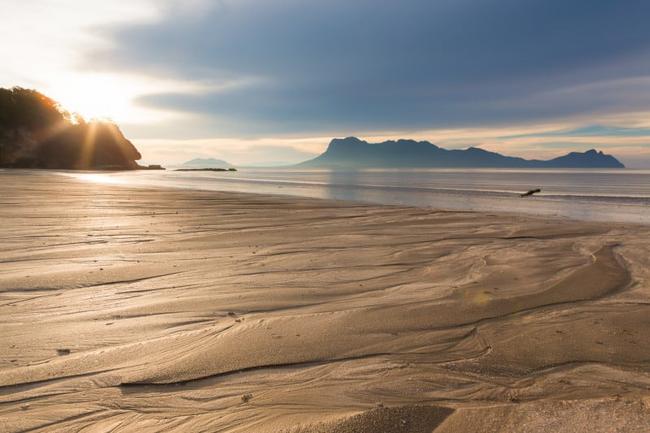 Accommodation in Bako National Park
When visiting Bako National Park, you can stay overnight in simple accommodation in a lodge. Some rooms have ensuites for extra privacy but get booked fast. So, book early to make sure you get your preferred type. A basic canteen is usually attached to the lodge with food, drinks and beer.

Staying overnight in the park also means you get the benefit of dawn treks when lots of animals are at their most active. These include silver leaf macaques, otters, over 150 bird species, wild pigs, water monitors and around 280 resident Proboscis monkeys. There are 16 trails along the national park suitable for all fitness levels. One of the treks lets you see the famous Bako Sea Stack – an islet off the peninsula eroded into the shape of a cobra ready to pounce!

In the Santubong Peninsula, there is the option to stay at the Permai Rainforest Resort, accessible by car. It offers a jungle lodge and treehouse room at the foot of Mount Santubong. Rustic with a bouldered private beach and natural rock pools, it's a fantastic option for those wanting plenty of outdoor activities available.

For those wanting to climb Mount Santubong, you can do so from the Permai Rainforest Resort with a guide. It's pretty hard work and involves cliffs and rope ladders, but the views from the top are stunning. The trail ascends through the rainforest and offers fantastic wildlife spotting opportunities and a gorgeous waterfall for some wild swimming to cool off.
All in all, Bako National Park and the Santubong Peninsula are my favourite hidden gems of Borneo. The area is wild, easy to get to, inspiring, intriguing and ultimately a fantastic place to unwind immediately after arriving in Borneo.
If you'd like to see how Bako National Park could be included in your Borneo holiday, have a look at these suggested itineraries: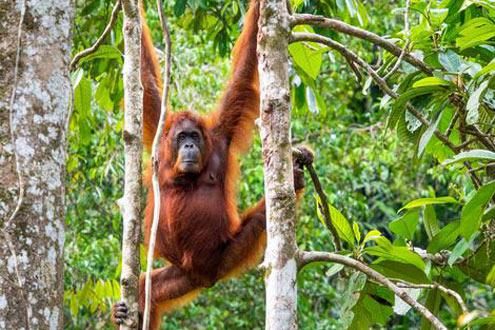 Beach and Wildlife: The Classic
A two-week exploration of the Borneo ending with pure relaxation on beautiful Gaya Island.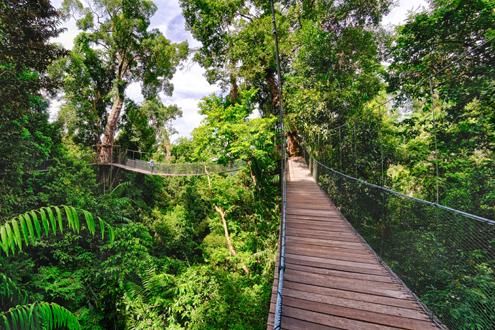 Borneo Encompassed
An in-depth, expertly guided three-week tour taking in a wide variety of Borneo's many natural wonders.