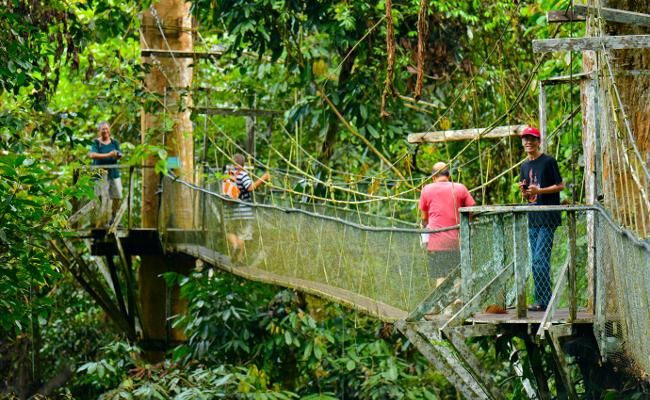 In the Malaysian state of Sarawak, World Heritage-listed Mulu National Park is immense; it spans more than 500 square kilometres. Exploring this stunning and very important region of Borneo can take some time, and the region is worth every second you have. Sweeping limestone outcrops and mysterious caves, lush, dense rainforest with thousands of unique and rare species of flora and fauna, and kilometres of trekking leading you through rivers, jungles, high and lowlands.
The magnificent cave systems are the most popular destination by far in Mulu National Park. Illuminated walkways lead you through enormous cave systems, and part of the journey can be completed by boat. Highlights include the Wind cave with its unique calcite formations, Clearwater Cave with its underground river, and Deer Cave for its sheer size. Lucky visitors may get to witness thousands of bats flying out of the cave's entrance at dusk.
The Headhunter's Trail is a thrilling trek that follows the route of the Kayan headhunting parties as they launched raids on the Limbang people. Visitors can enjoy incredible views from the canopy skywalk, take a boat trip along the Medalam and Terikan rivers, visit traditional longhouses, and interact with local Penan tribes.
Mulu National Park is a thrill for adventure-seekers, jungle trekkers, and nature lovers. Talk to us at Experience Travel Group to tailor your trip: we know the top hotels and are familiar with the finest forest trails.