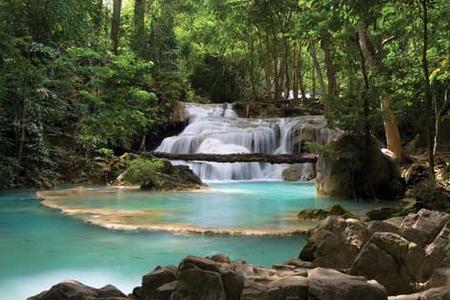 Featured Holidays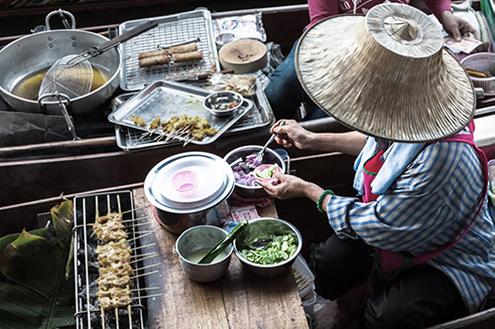 Alternative Thailand
Away from the main tourist trail, this is an alternative view of Thailand - off beat luxury!
Featured hotels: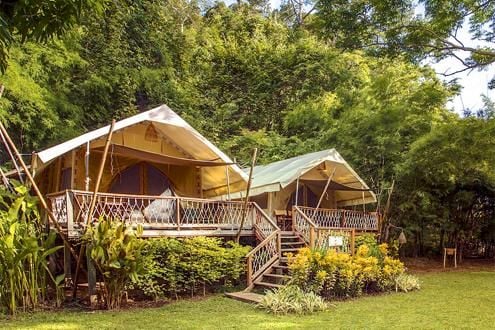 Hintok River, Kanchanaburi
Excellent riverside camp with luxury tents and a great range of activities and excursions
The Kanchanaburi Region of Thailand is intriguing place to visit because of the area's interesting history. What is less well known is that the beauty of the area is worth the trip itself.
National Parks
The Kanchanaburi Region of Thailand is home to seven national parks. Probably the most impressive of these is the Erawan National Park because of the Erawan falls. There are seven levels of falls you can swim in, all of which are stunningly beautiful. If you only have time to visit one national park, make it the Erawan National Park; however, if you have the time Srinakarind National Park is well worth a visit for the Huay Mae Khamin Waterfalls. Tham Than Lot National Park is also a great place to visit because of the elephant camps in the area. And while some people love the infamous Tiger Temple, other people will dislike the way the tigers are kept in a semi-dazed state and we tend to advise avoiding this temple.
Buddhist Temples
Phrabhavanaviriyakhun, the famous Buddhist monk, was born in Kanchanaburi. Near the temple Wat Tham Phu and there is a series of shrines in a limestone cave system to The Buddha--each statue represents a different facet of his life. But there are several beautiful temples worth visiting: Kuan Yum, Wat Tham Mungkornthong, and Wat Tham Khao Noi being the most noteworthy.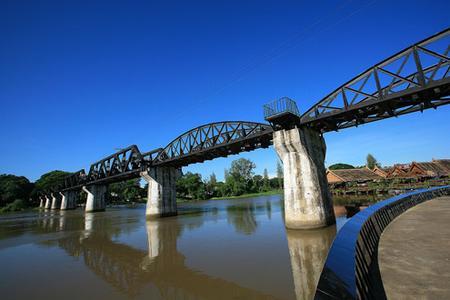 WORLD WAR 2 SITES
The Kanchanaburi Region of Thailand was the home of a Japanese POW camp during World War 2. Due to this, there are many WW2 related attractions. History buffs will love the World War 2 Museum and Art Gallery, the Thailland-Burma Railway Centre as well as the JEATH War Museum. The hike through Hellfire pass is well worth taking in too and, of course, the Bridge Over The River Kwai.
So, regardless of what you're looking for, swimming, sightseeing, hiking, engaging with wild life, beautiful Buddhist temples, or the history of World War 2, the Kanchanaburi Region of Thailand is an amazing place to visit. It can be reaches easily from Bangkok – ask our consultant to work it into your itinerary or look at this option.
There are some great places to stay too – such as the totally unique Jungle Rafts and the lovely Hintok.