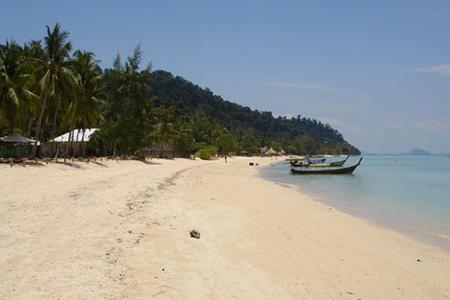 A small island shaped like an arrowhead lying off the coast of Koh Lanta, Koh Ngai is perfect for those hidden beach fantasies. Measuring just 4km long and 2km wide, there are no roads and only a handful of resorts, making it a wonderfully peaceful getaway. The standard of the resorts is surprisingly high with Thapwarin the standout choice for its clever design of rustic bungalows and friendly service.
The untouched rainforest of most of the island makes for brilliant jungle treks with excellent bird-watching possibilities. Koh Ngai is also one of the stop offs for the popular snorkelling trips from nearby Krabi and Koh Lanta, so for keen snorkelers it's a perfect location with fantastic reefs just off shore. Nearby there are several famous dive and snorkelling locations, including Emerald Cave at Koh Mook. The sheltered sea just off the shore is great for kayaking too.
The island is reached most easily from Krabi Airport with a 2 hour transfer followed by a speedboat ride from Pakmeng Pier. In total the transfer takes roughly 2.5 hours. Koh Ngai can also be reached by direct ferry from Koh Lanta and indirectly by ferry from Koh Phi Phi and Phuket.
Koh Nagai is also known as Koh Hai – simply a matter of easier pronunciation for non-Thai speakers!