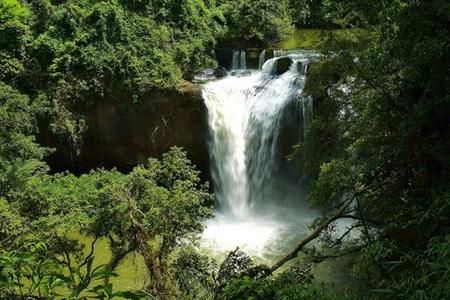 Khao Yai National Park is located in Thailand in the western part of the Sankamphaeng Mountain Range. At 2,168 square kilometers, it's the second largest national park in Thailand. Outside the park, there are many hotels in Thailand that are close by; however, you can camp in the park if you wish.
The park is perfect for nature lovers. Between its natural attractions and highly diverse plant and animal life, Khao Yai National Park is beautiful. There are four waterfalls in the park, but two are famous: the Heo Narok and the Heo Suwat, the latter of which was featured in the film The Beach. The majority of the park is covered in evergreen forests and grasslands, and is home to 3,000 species of plants, 320 species of birds, and 67 species of mammals. Noteworthy species include the Asiatic black bear, Asian elephant, guar, Indian sambar deer, Indian muntjac, and the dhole.
Because of the size and diversity of terrain, Khao Yai National Park offers many amenities and attractions. For those that love hiking, the park has many different hiking paths of types, difficulties, and lengths; however, those unfamiliar with the terrain are encouraged to hire a guide for longer and more difficult hiking excursions. You can also rent bicycles and bike around the park as well as motorbikes and cars. Kayaking is an option as well. There are four spectacular waterfalls, some of which you can swim in. And there are many wildlife tours available that will allow you to see the best of the flora and fauna in Khao Yai National Park.
Interestingly, Khao Yai is also becoming known for its nascent wine industry. Tours of the 'new latitude' winery's can be organised and are a good fun, if surreal experience.
So whether you're taking a long or short holiday in Thailand, Khao Yai National Park is an interesting option from Bangkok. The journey time is fairly short so it's an interesting and straightforward diversion and makes for a really nice alternative to the usual.