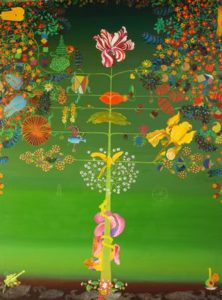 Central London gallery Asia House are holding an exhibition entitled 'Contemporary Art from Sri Lanka' between now and March 12th. Admission is free and the gallery is open between 9:00m and 8:00 pm.
As the first international showcase of Sri Lanka's leading contemporary artists since the end of the civil war in 2009, 'Contemporary Art from Sri Lanka' will offer a timely introduction to the country's visual arts. At a crucial moment of reconnection with an international public, this project presents a sample of the most prominent artists working in Sri Lanka today. There will be more than 25 works by prominent and emerging Sri Lankan artists including Muhanned Cader, Druvinka and Sanjeewa Kumara. The Independent have a gallery section where you can preview some of the exhibits online.
There will be a special, one-off event on Thursday March 10th at 18:45, where the curator and artists will discuss the show and their work.
With the annual Galle Literary Festival now firmly established as one of the world's leading literary events, Sri Lanka is putting itself back on the cultural map. We at Experience Travel support this additional and welcome exposure for Sri Lakan artists. If you are visiting Sri Lanka and are particularly keen on the arts, contact us to tailor make a holiday itinerary that gives you as much time as possible in the right places to soak up this little-known, yet vibrant social scene.